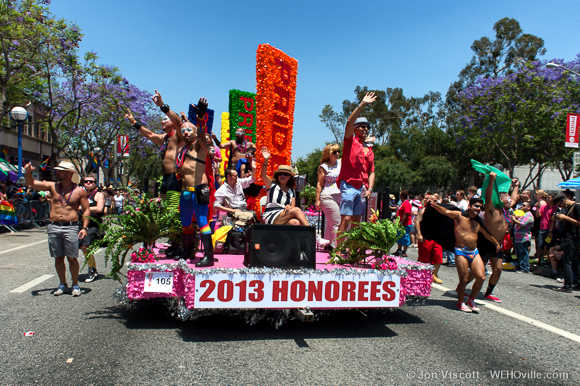 Representatives from Christopher Street West (CSW), the group that produces the yearly parade and festival, will attend both upcoming West Hollywood meetings critiquing LA Pride, according to CSW President Rodney Scott.
In an effort to improve the event due to community criticism and concerns expressed by CSW board members, Councilmembers John D'Amico and John Duran say they have been meeting with Scott and will present their ideas at the regularly scheduled City Council meeting on Oct. 21.
Additionally, on Thursday night, West Hollywood's Lesbian and Gay Advisory Board (LGAB) approved hosting an Oct. 30 town-hall-style forum discussing ways to improve the gay festivities. Despite the approval, the board said it had serious reservations it may anger CSW by holding the event and wasn't sure if CSW would attend.
"Absolutely!" Scott said. "Of course we're going to be there."
Scott added that CSW is also inviting West Hollywood's Transgender Advisory Board to attend the forum.
Scott said meetings with Duran and D'Amico, and one that included West Hollywood City Manager Paul Arevalo, were "very productive," with topics including real estate ("We're a bit land-locked," Scott said), diversity and trying to increase the number of days visitors attend.
Scott said he would be at the City Council meeting but, due to his travel schedule, couldn't make the Oct. 30 town hall-style forum. Other representatives from CSW would attend, he said.
In July, several CSW board members told WEHOville the group was considering moving the event out of West Hollywood, citing lack of support from the West Hollywood business community and disputes with the city over the costs associated with the festival and parade. However, Scott issued a statement saying that was not true.
Thursday night, LGAB members worried CSW might move the pride event to Los Angeles in retaliation for holding the forum.