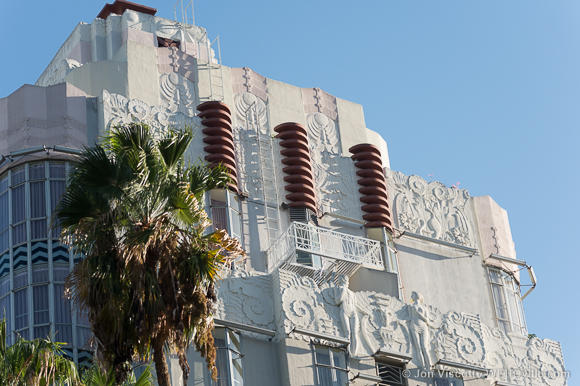 Sunset Tower Hotel is renowned for its Vanity Fair Oscar party and the celebrities who have lived or stayed there, but ever wonder why it has such unusual ornamentation?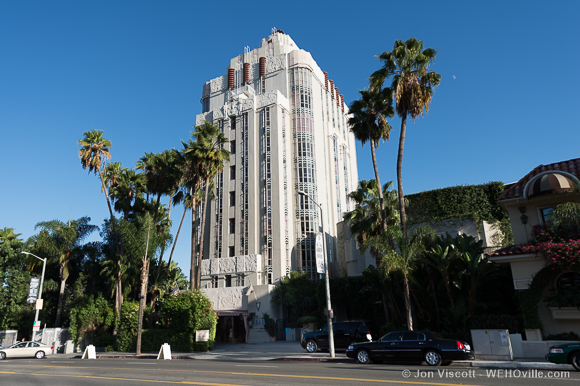 Designed in 1929, the Sunset Tower Apartments (as the building originally was named) was the tallest apartment building in Los Angeles when it opened in 1931 and seemed even taller because of its perch on Sunset Boulevard in the hills. At 8358 Sunset Blvd. near Kings, it was built outside the Los Angeles city limits to avoid that city's height restrictions.
Besides its unrivaled views, the tower, designed by Los Angeles architect Leland A. Bryant, attracted residents with modern conveniences. It was the first fully electric residential building in Los Angeles and advertised an outlet for electric shavers in every bathroom.
Its owners made an unsuccessful effort to convert the apartments into condominiums in the late 1970s, and it was reborn as a luxury hotel in 1985. Initially renamed the St. James Club, it later became the Argyle. Hotelier Jeff Klein acquired it in 2004, renamed it the Sunset Tower Hotel and undertook a major restoration of the building. The building was added to the National Register of Historic Places in 1980. Celebrities who have stayed at the hotel include John Wayne, Howard Hughes, Frank Sinatra, Clark Gable, Marilyn Monroe, Quincy Jones, Roger Moore, Truman Capote and Bugsy Siegel.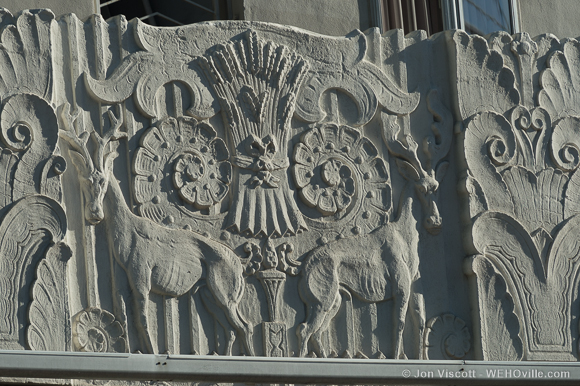 Bryant designed the building in the Art Deco style, which was still quite new in 1929. Developed in the interwar years, it was a forward-looking style. Its imagery and materials were inspired by the industrial machine age and new mass production and media technologies — especially in theatre and film — as opposed to historical precedents.
Those technologies gave people a view of the world that, in 1929, was a rare luxury. Traveling to Europe or Asia was a costly, time-consuming endeavor. Still photography and film technology were not yet portable or affordable for the average person. That being the case, exposure to far away places was predominantly through exotic set designs for film and theatre and through books. Film was particularly pertinent to those in LA who not only saw the sets in the movies but also their actual construction. Art Deco styling soaked up as much exoticism as it could, particularly the sensationalized and eroticized portrayal of Asia and the Middle East in Hollywood films. Stepped pyramids, lush foliage, mystic animals, stylized nudes and geometric arabesques made their way into every corner of this designed world.
Sunset Tower was a contemporary of some of LA's most treasured examples of Art Deco architecture, like the Bullocks Wilshire department store, the Wiltern Theatre on Wilshire and the Eastern Columbia building downtown. On close inspection though, Sunset Tower may be a more intriguing example of the Art Deco style's inspirations than some of those better known buildings.
While little literature exists on Bryant or his inspiration for Sunset Tower's ornamentation, the tower's images suggest he was a movie-goer. A film like D.W. Griffith's "Intolerance" (1916) may have been his inspiration. 
"Intolerance," an epic of the silent era, spanned a period close to 2,500 years and ran three and a half hours. Its most famous and ambitious sequence was the depiction of ancient Babylon, accomplished with gigantic sets filled with thousands of extras. The original Babylon set was built, full size, on a lot where Hollywood and Sunset boulevards intersect and the Vista Theatre now stands. It was partially recreated, for better or worse, with the film's signature rearing elephants at the Hollywood and Highland complex. More important than the huge sets was the image of a far away place brought to the screen and streets of LA.
Bryant likely saw this set both in person and on screen and many of the decorative elements on Sunset Tower have distinct similarities to the Babylon set. Flourishes of foliage, foreign animals and stacked pagodas pepper the entire building.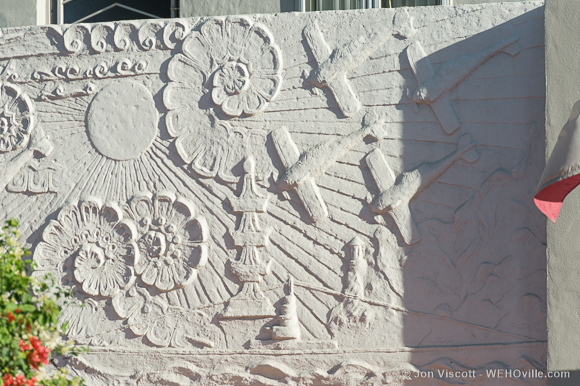 Starting at the bottom, the front face on Sunset Boulevard has a large relief above the main entry. Stacked pagodas rise out of ocean waves and pierce swirls of cloud and wind. A zeppelin breaks through a cloud bank on the left side and a modern ship (possibly a German U-Boat) enters from the right. Fighter planes dive from above, completing the most mechanical of the tower's images.
On its back side, near the entrance to the parking garage, gates and bars are made to look like the grilles of cars, complete with headlights.
One tier up, a bundle of wheat flanked by stags, curling leaves, small goats, stars and tiered towers face Sunset in a horizontal plaster frieze. On the east and west sides, splaying foliage and layered towers are punctuated by goats and centrally by a large elephant, the style of which is very reminiscent of those in the Babylon sets.
The main trunk of the building is mostly unadorned, with chevron-patterned opaque glass breaking up curved corners of floor-to-ceiling windows.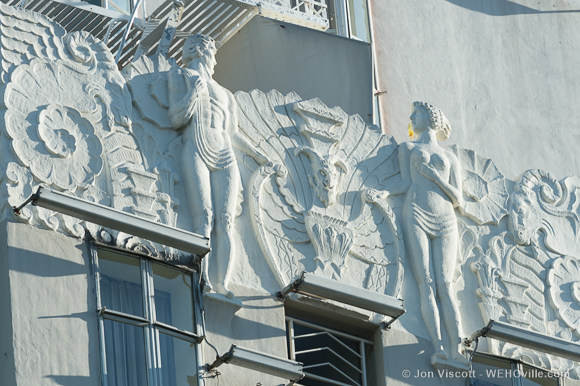 At the tower's top, the ornamentation is the same on the structure's front and back. Front and center are a male and female figure (some guess Adam and Eve) each with a hand on a gargoyle-like figure between them — a creature that could be Bryant's take on a mythic Babylonian god. To each side, ram-headed creatures with air-like wings and spiraling serpent bodies keep watch. Their bodies created with the same curling leaf and cloud shape used elsewhere. The east and west sides of the building at this level feature the same ram-headed creatures and a single, centered female figure.
The next band up belongs to the birds. Eagles nest among flowers and vines of grapes. To the sides, peacocks perch on sinewy vines framed by palm-like fronds. The east and west sides of the building still have peacocks, but long-legged cranes stand in for the palms.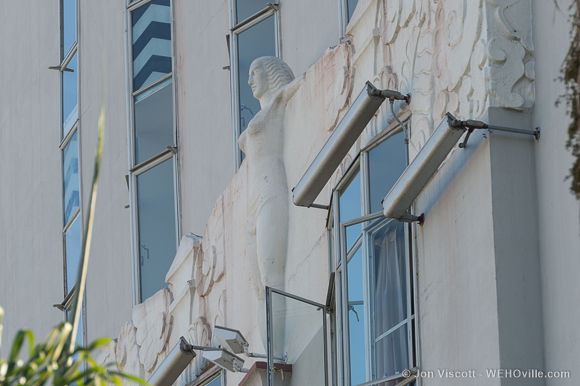 A narrow band of small palm trees, pineapple poufs and stylized birds ring the next step of the crown. At the top-most band, a ringed planet, surrounded by starlight, floats between a sun and moon. Sunset Tower's ziggurat-like tower is topped with a large layered pagoda.
Sunset Tower, with its decoration more figural than abstract, is an excellent example of the ability of the Art Deco style to knead together architecture, film, ancient history and the most advanced technology of the day.
The design motifs used on Sunset Tower are multiple levels of disconnection and interpretation from their source material — a frieze made from a film of a set designed to reflect a historic era thousands of years old. But, that the material travelled so far and could be seen at all (thanks to the latest film technologies) made what would have otherwise been historic decoration part of an extremely modern turn in design.