And lo, the disciples of cyberspace spread the good word and the message of "WeHo Jesus" reached the corners of the Internet.
And that message was—well, he didn't have so much a spelled-out message as a handful of red balloons. Maybe his message was that the anti-LGBT protesters should update those stark, ugly yellow-letter-on-black-background signs that they're always wielding at Pride events, funerals and, in this case, at AIDS Walk Los Angeles.
Wearing his trademark white robe, the longhaired and bearded Kevin Lee Light—a longtime Jesus impersonator who's often spotted roaming the Creative City—showed up to the yearly event benefiting AIDS Project Los Angeles and challenged anti-gay protesters holding signs reading, among other things, "Homo Sex Is Sin." Lee, a peaceful figure in contrast to the hate-spewing protesters, stood alongside them with a bunch of red balloons.
Photos of Light's counter-protest have been picked up or linked to by sites ranging from LGBT sites Huffington Post Gay Voices, Queerty and Instinct to humor site Fark.com. Here are a few of the photos, snapped by Brody Brown, that are making the rounds: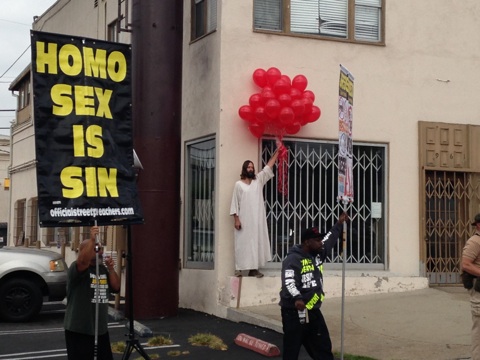 Brown wasn't the only one documenting the experience. Light himself shared some video clips from the AIDS Walk online. That's right, you can now follow Jesus (WeHo Jesus, anyway) on Twitter and Instagram.