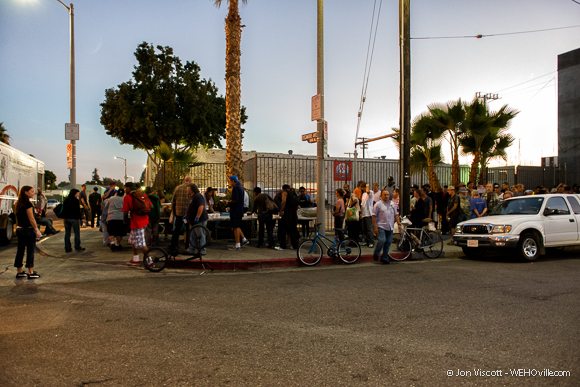 Previously evicted from West Hollywood, the very city that created it, the Greater West Hollywood Food Coalition (GWHFC) could now face the prospect of being shut down by the city of Los Angeles.
An L.A. City Council subcommittee meeting at 2 p.m. today is scheduled to consider a motion about "non-commercial meal distribution in the public rights of way." That's a category that includes GWHFC, which each night parks its food truck at Sycamore Avenue and Romaine Street, just east of West Hollywood, and serves meals to the needy.
The motion, introduced by Councilmember Tom LaBonge, says that groups that provide meals "provide a valuable service" but  can cause "negative impacts to surrounding communities."
"Due to the large demand to feed those in need, these activities frequently spill out onto the sidewalk and street, creating numerous public safety and public health concerns," the motion says. "Additionally, concentrations of people, lack of ADA accessibility and blocking of streets and sidewalks cause significant public safety problems. City Departments should come together to determine a solution that addresses non-commercial feeding in the public rights of way."
GWHFC specifically has generated complaints from people who live near its distribution site. Some area residents say that clients of the GWHFC truck have left syringes, drugs and human waste in their trash and in their bushes, CBS L.A. reported.
Ted Landreth, one of the founders of GWHFC, said that the organization has always been willing to talk to neighbors about their complaints, and to try to figure out if the people creating problems are clients. It's a mistake, he said, to paint all homeless people with the same brush. He criticized the neighbors for taking what he called the "political position" that getting rid of GWHFC is the only way to address the complaints.
"Every single one of these neighbors have spewed hatred and defamation all over the neighborhood about us and the people we serve without so much as ever coming to Sycamore and Romaine where we serve our meals … It's so appalling that I just can't get over it," he said. "We have never wanted any kind of a fight with anybody. We're trying to help people."
The motion introduced by LaBonge proposes that the city attorney "provide legislative options" and "draft legislation" to address problems associated with the distribution of food on public right of ways.
Correction: A previous version of this story incorrectly stated that the LA City Council is meeting today at 2 p.m. to discuss the homeless coalition. It is the Public Works and Gang Reduction committee that is meeting.