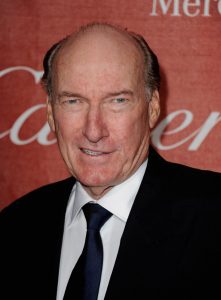 Veteran character actor Ed Lauter, whose five decade-long career included film and TV credits in "Trouble With the Curve," "Leaving Las Vegas" and "The Artist," died of mesothelioma at his home in West Hollywood on Wednesday. He was 74.
While he wasn't a big film star, the squinty-eyed Lauter, with his long, thin face, was instantly recognizable to film and TV lovers. He played in about 200 movies and TV series.
Often he played sports coaches, sheriffs, thugs and con-men. Standout roles included the prison guard in 1974's "The Longest Yard," cop in "Death Wish 3," gas station attendant in Alfred Hitchcock's last film "The Family Plot" and butler in 2011's Oscar-winning "The Artist."
TV appearances included "The Office," "ER" and "Murder, She Wrote."
He will last be seen in "The Town That Dreaded Sundown," to be released in 2014.
Lauter is survived by his wife Mia and four children.