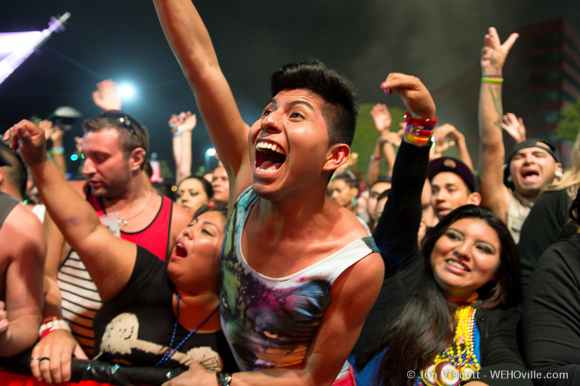 LA Pride revenue this year is up 3 percent in most major categories over the year before according to figures released by Christopher Street West, the non-profit organization that stages the event.
Corporate sponsorships, fees charged to parade participants and exhibitors and vendors on the festival grounds, tickets for admission to the festival, beverage sales and Pride Guide advertisements generated around $1.4 million according to revenue figures released by CSW.
The figures represent a modest overall improvement over revenue in the same categories for Pride 2012, which saw an increase of 12.5 percent from the year before. Total Pride 2013 revenues have decreased by 4 percent from those five years ago. Revenue from fees charged by CSW for participation in the parade increased by 13 percent this year over last, for total revenue of $46,000. Revenue from fees for admission to the Pride festival, whose tickets are $20 each, showed a slight one percent increase to $560,000.
The numbers, released at the request of WEHOville.com, highlight some of the issues faced by CSW ahead of two public forums on ways to improve the yearly LA Pride event, which is staged in West Hollywood.
In response to concerns about the event raised by area LGBT residents and some CSW board members, West Hollywood City council members John D'Amico and John Duran say they have been meeting with Rodney Scott, CSW's president, and will present ideas for improving LA Pride at the council meeting on Monday.
West Hollywood's Lesbian and Gay Advisory Board (LGAB) will host an Oct. 30 forum to discuss ways to improve the annual gay festivities.
In July, several CSW board members told WEHOville the group was considering moving the event out of West Hollywood, citing lack of support from the West Hollywood business community and disputes with the city over the costs associated with the festival and parade. However, Scott issued a statement saying that was not true.
Community members have expressed frustration with the quality of the parade floats, the length of the parade and "time gaps" between floats and the quality of the celebrities who appear at Pride.
Scott said the increase in revenue in 2012 over 2011 was because of the opening of West Hollywood Park, where the parade festival is staged. "In 2012, we got to introduce a new park and consumers were excited about that," Scott said. "2012 also brought Summertramp and a lot of buzz. It was the first water park at Pride. We also showcased some good entertainment." Scott also said LA Pride stepped up its social media marketing in 2012.
Summertramp, however, was not a part of the 2013 festival. Sources close to CSW said the LA County Fire Department refused to grant a required permit for the outdoor water festival because a fire marshall at the 2012 event saw a potential for violence in what one CSW board member described as playful activity.
Even with a full West Hollywood Park at its disposal, Scott said CSW does not believe it has enough space. The subject of limited space was discussed in a report from the 2005 Christopher Street West Task Force, which was created to address concerns then over Pride and included representatives from CSW, the West Hollywood Chamber of Commerce, the then Marketing and Visitors Bureau, the business community and residents. The task force recommended exploring expansion options at the MTA lot, the Pacific Design Center plaza and on West Hollywood's eastside, including Plummer Park.
"Would I like to see the MTA lot opened up? Absolutely," Scott said. However, Scott said, CSW has not had formal talks with MTA and he believe that is lots, located across San Vicente Boulevard from West Hollywood Park will be available in the near future. Representatives from CSW will attend both upcoming West Hollywood meetings discussing LA Pride.