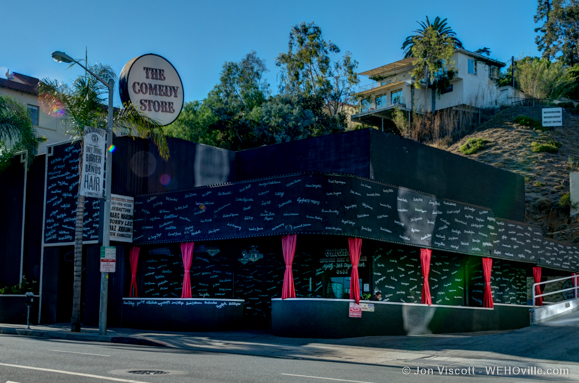 In the "spirit" of Halloween, WEHOville tuned into the great beyond and set out to learn about any local ghosts that haven't crossed over from the Creative City to the other side.
We knew about the Comedy Store's seedy history, and the distressed spirits that allegedly haunt it still. Embracing that reputation wholeheartedly, The Comedy Store will hold its annual "Haunted Midnights" event on Thursday, Oct. 24.
"Skitzo" (aka Jeff Scott, the Comedy Store's pianist) will attempt to summon spirits during the show, which also includes vintage TV clips of ghost-hunters checking out the formerly mob-operated building. During a mini-tour, Scott gave us the scoop on Comedy Store legends.
No Laughing Matter
Bar-turned-speakeasy-turned-rock 'n' roll night club, the building that later became the Comedy Store, 8433 W. Sunset Blvd. at Olive, has a history filled with more screams than laughs. During the early 1940s, it was Ciro's, a club with a star-studded guest list and dark underbelly. Owned by mobsters with a stranglehold on Las Vegas, Scott said the venue was the scene of some dark doings. Mobsters, for example, broke the legs of customers with unpaid gambling debt.
The doormen of the club, Scott said, were Mafia hit men. Two of those deceased doormen, Gus and Anthony, are believed to roam the building.
In addition to the house ghosts, the staff (and sometimes patrons) of the comedy club have noticed a more abstract "energy" that gives them the heebie-jeebies. And then there are the objects that reportedly moved of their own accord — an ashtray that flew at a comic, a barstool that moved across the stage and a door that appeared to close itself with no hint of a breeze.
Scott said that the ghosts don't bother him, although he's had a couple of close encounters. He'll share his own ghost stories as part of the Haunted Midnights show, which concludes with a midnight tour that takes guests behind the scenes of the famous night spot.
Who You Gonna Call? Ghost Hunters!
After brushing up on the spirits of the Comedy Store, we wondered if there were other WeHo "haunts" with lingering ghosts. Instead of setting up our own séance — sarcastic reporters didn't seem like the right people for the job — we called on an expert Kate Eggert of the Dead History Project, which does paranormal investigations of buildings with a reputation for being haunted. Eggert gave us the scoop on other local spots she believes harbor spirits.
Before we start digging into the grave business of haunted locales, here's some background on how DHP investigations work:
"The main reason DHP got started is because I love history, I love digging through old books and maps and I love those ghost television shows," Eggert said. "The places DHP investigates are usually hard to research because for whatever reason the records aren't there … so I thought if given the questions, the ghosts could fill in the gaps.
"The paranormal investigations can vary from being simple to complex. Most of the time, we'll set up infrared (IR) cameras and digital voice recorders throughout the location. Then we'll walk around the location with IR cameras, digital voice recorders and EMF detectors and start asking questions. We've been really lucky to investigate places that not only have never been investigated before but are also legitimately haunted."
The Not-Totally-Silent Movie Theatre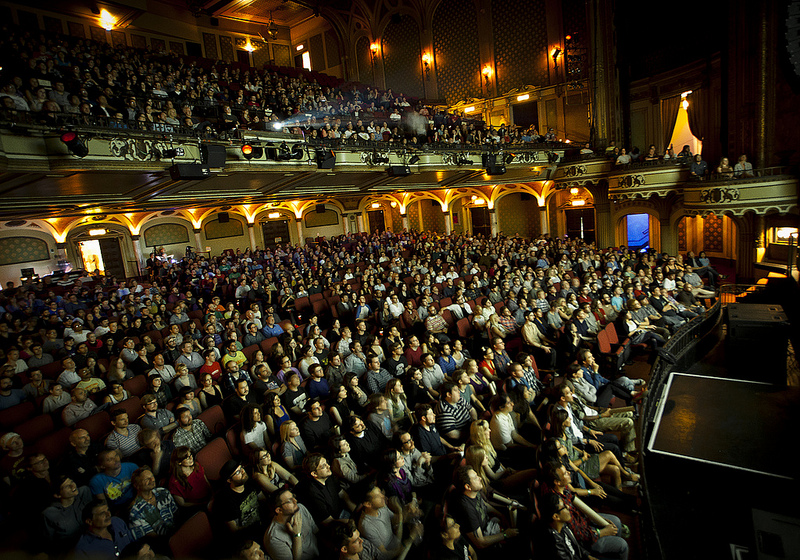 We already knew that the Silent Movie Theatre, now home to Cinefamily, had a reputation as a haunted spot. (And it's no wonder, given that a former owner was fatally shot there in 1997). Laurence Austin was killed by a gunman who'd been hired by projectionist James Van Sickle, who was reportedly involved with Austin and stood to inherit his million-dollar estate. Rodriguez shot Austin and concession worker Mary Giles, who survived the shooting, during a film screening at the venue.
A Cinefamily representative declined our request for an interview but noted that "we haven't experienced anything of that variety ourselves."
Here's what Eggert had to say about the Silent Movie Theatre, located just outside of WeHo at 611 N. Fairfax Ave. at Melrose:
"The Silent Movie Theatre was actually the first paranormal investigation we did. Although we did catch a man's voice in response to questions, and I saw a man with his arms crossed in the lobby, it was tame compared to The Palms."
The Ghosts Are All Right?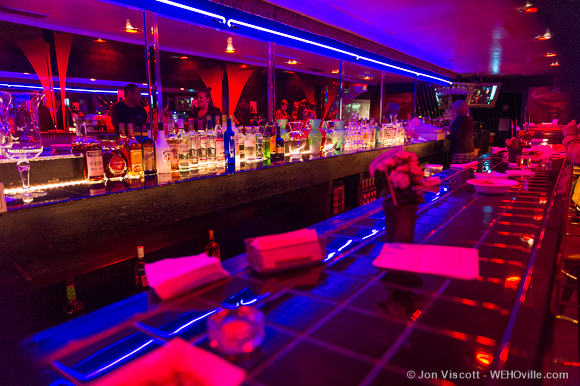 The Palms? Yes, says Eggert, who is working on a documentary about the now-demolished last lesbian bar in WeHo. She first visited the venue in her ghost-hunting capacity.
"We've done two paranormal investigations at The Palms," she said. "The first one was intense. Most of our time was spent in the basement. There we caught three distinctly different voices and a shadow … the EMF detector (which reads electromagnetic fields) numbers were going up and down in response to our questions. We were blown away; it was really so exciting."
Although the building has since been razed, Eggert said it's not that easy to demolish restless spirits.
"Just because you tear down a building doesn't mean the ground is not haunted," she said. "Two years ago, when I started researching the history of the building, I got obsessed with the Rancho La Brea period of West Hollywood. Later, I interviewed one of the bartenders and she told me that she saw a woman and a child dressed in 19th century clothing walking across where the bar and the dance floor met.
"We also went through the building with a medium, and she kept on picking up a 19th century brothel at that location. Obviously, that had nothing to do with the 1930 building. That piece of land and the lots next to it have seen a lot of death … I don't think that energy ever completely leaves."
The Spirits of WeHo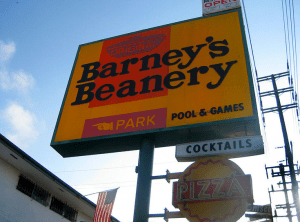 Not sure where else ghosts might wander in this little berg of WeHo, we asked Eggert where else spirits might dwell.
"I've heard stories about Barney's Beanery being haunted as well as Sweet Lady Jane on Melrose. There are other places I know of, but I've been asked to keep their location secret. I can say that a famous design store that used to be a mortuary is said to be haunted," she said.
"Also, there is a residence close to 'Boystown' that has seen at least five deaths since the 1950s – death from an abortion, a murder/suicide and two more suicides in recent years. Of course, that doesn't mean the residence is haunted — but it sure sounds strange."