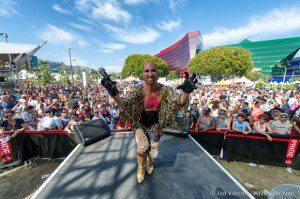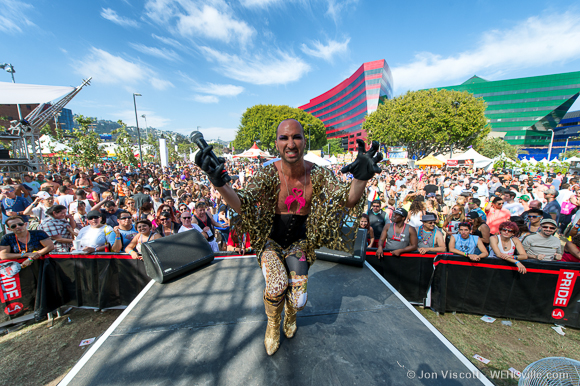 On Monday night, West Hollywood Councilmember John D'Amico presented a proposal for sweeping changes to LA Pride before the City Council, which praised the work of event producer Christopher Street West (CSW) and gently offered critique of the yearly gay festivities.
While D'Amico hoped for a lively public discussion, only four people spoke during the public comment period. A majority of the CSW Board of Directors, including President Rodney Scott, listened as D'Amico said he wanted to set a "collaborative tone" for coming discussions between the city, public and CSW, which has come under criticism over the years.
"This is not something that the city of West Hollywood wants to own," D'Amico said. "We don't want to end up with this event. We want to collaborate with CSW along the way."
Monday's meeting also was supposed to include an anticipated battle over a "tall wall" on the west facing wall of the building at 8730 Sunset Blvd., near Sherbourne but the item was postponed to December.
The council will again take up the topic of CSW and gay pride at its Nov. 18 meeting, and has asked Scott to report on steps CSW will take to address its concerns.
The city's Lesbian and Gay Advisory Board (LGAB) will host a town-hall forum to get input on ways to improve the festivities on Oct. 30 at 7 p.m. in the community room of the West Hollywood Library.
"I appreciate the long history that the city and CSW have," Scott said. "That was articulated by virtually every single council member. That to me is really the heart and soul of who we are as the city and who we are as a community partner. That is what I saw demonstrated today from each council person."
Early Monday, City Council members John D'Amico and John Duran, who last January were named to a sub-committee to meet with CSW to address complaints about the event, released a report proposing that West Hollywood help secure performers and celebrities for LA Pride, contract with an event planner for the event and be allowed to appoint a city staffer to the CSW board. Duran, who is traveling, was unable to attend Monday's meeting.
The pride festivities have long been criticized by area residents for being "tired" and lacking a political component. Community members have complained about the $20 admission fee to the Pride festival, noting that San Francisco Pride attendance is free. There also have been complaints about the quality of celebrities secured as parade grand marshals, the quality of parade floats and "time gaps" in the parade that leave viewers waiting for the next float to appear. In their report, the council members suggest that the City Council festival provide free admission only to a part of the festival area and to an area for sober visitors.
While the city provided $253,855 in services to CSW for Pride in 2012, D'Amico has suggested increasing that investment by hiring consultants and event planners to work with CSW and using the city's connections to bring in bigger entertainment names.
On Monday, Councilmember John Heilman also said he wants to see the city contribute more money to pride. Heilman, who wants to see the three-day event expanded to a week of events, has suggested the city pick up the tab for setting up the stages in West Hollywood Park and start programming on Monday rather than the traditional Friday night.
"(The city) could do programming as part of a gay pride week," Heilman said. "We could have the Gay Men's Chorus perform. We could have a Broadway musical night. We could have a transgender night, a drag show night and a rock night. We could create an experience … I think it's the kind of thing that we could really market as a week of gay pride rather than just a weekend."
Mayor Abbe Land cautioned that a weeklong event would have impacts on area businesses as well as people who use the park and library.
During the public comment period, resident Steven Davis said he wanted "West Hollywood" incorporated into the event name, which was suggested in D'Amico and Duran's report, and resident Brad Keistler felt more pride events should be geared for older residents.