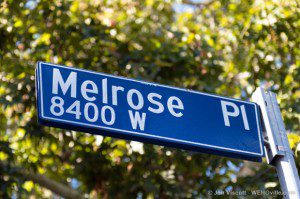 New York-based development company VE Equities has purchased three buildings on the 8400 block of Melrose Place, L.A.'s quaint fashion mecca just outside West Hollywood.
The $30 million complex will house an outlet store for the Row, according to the L.A. Times. The Row is a luxury clothing line by twin sisters Mary-Kate and Ashley Olsen of "Full House" fame.
"It will be interesting to have a New York mindset" in the area, said Kevin Mark Lodie of Diversified Luxury Marketing, a marketing and business development firm.
In 2007, Lodie founded the Melrose Place Association to spearhead a re-branding effort for the retail enclave made famous by Aaron Spelling's 1990s soap opera.
Previously a furniture- and design-focused area, Melrose became a hub for high-end retail with "a number of luxury brands," Lodie said.
The Melrose Place Association ultimately disbanded because the recession caused many stores to shut their doors. However, Lodie notes that several new businesses have made a go of it on the two-block street.
"It's been nice to see that there's been a resurgence," Lodie said.
Zach Vella, who heads VE Equities, told the Times that the Melrose Place venturel likely won't be the company's final undertaking in L.A.