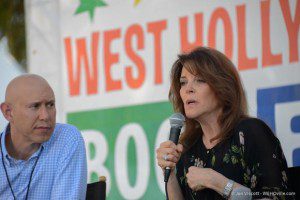 Best-selling author, Project Angel Food founder and spiritual guru Marianne Williamson, a former WeHo'an, has announced her candidacy for the U.S. House of Representatives seat currently held by Henry Waxman.
Williams, the author of "A Return to Love" and several other titles, may prove just as quotable a candidate as the senator from Alaska. Her gems run the gamut from quirky to inspiring (and often straddle the line between the two). Here's a compilation of our favorite Williamson-isms:
Our deepest fear is not that we are inadequate. Our deepest fear is that we are powerful beyond measure. It is our light, not our darkness, that most frightens us. We ask ourselves, who am I to be brilliant, gorgeous, talented, fabulous? Actually, who are you not to be? You are a child of God. Your playing small doesn't serve the world. There's nothing enlightened about shrinking so that other people won't feel insecure around you. We are all meant to shine, as children do. We were born to make manifest the glory of God that is within us
— A Return To Love (frequently and mistakenly attributed to Nelson Mandela)
Currently, the U.S. Congress is comprised of 16.8 percent women. Our state legislatures are comprised of 23.6 percent women. Would our legislative priorities be what they are today — tending always in the direction of serving those with economic leverage first — were those legislative bodies anywhere near gender equal? Would the "war on women" exist as it does now? Would child poverty — or poverty, period — be given such short shrift? I like to think not.
— Williamson's blog, Oct. 2012
For more Williamson wisdom, visit Goodreads. Williamson's website or the Brainy Quote page of Williamson quotes.