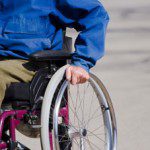 The West Hollywood Disabilities Advisory Board recognized local businesses, a non-profit organization and an individual Wednesday night for their service to disabled people.
Winner of the Non-Profit Award was Project Chicken Soup, an organization that prepares and delivers free kosher meals (including chicken soup) two Sundays each month to people living with HIV/AIDS, cancer and other serious illnesses. Project Chicken Soup, founded in 1989, is staffed with 1,500 volunteers and serves 125 clients. It's only paid employee is Executive Director Cathryn Friedman, who accepted the award Wednesday.
Winner of the Business Award was Target West Hollywood, the local store of a national chain known for its commitment to diversity and inclusion. In addition to hiring and training disabled people, "disabled and senior community members feel a demonstrated spirit of caring and accommodation while shopping at the local Target," the advisory board said. A team of Target employees accepted the award on the store's behalf.
The Lovedly Brydon Differently Abled Individual Award was presented to Cheryl Connolly. Connolly is a social worker and licensed marriage and family therapist who for 25 years has worked with those affected by HIV/AIDS. Unusual among providers of therapy, Connolly provides psychotherapy to HIV positive people in their homes. She has worked over the years with the Los Angeles Family AIDS Network and today works with AIDS Project Los Angeles. Lovedly Brydon, for whom the award is named, was a prominent figure in West Hollywood politics and civic affairs until her death in 2009. She was known, among other things, for her passion for the LA Sparks, the women's professional basketball team, and for the scooter she rode around town.
The Media Award was presented to WEHOville.com. WEHOville, which celebrated its first anniversary on Sept. 28, is the most highly trafficked website serving West Hollywood and environs and has as its mission the fostering of an informed and engaged community. The Disabilities Advisory Board recognized WEHOville for its coverage of matters of interest to the disabled. Publisher Henry (Hank) Scott accepted the award.
The awards were given out by members of the advisory board and City Council member John D'Amico and Mayor Abby Land. Award recipients also received certificates of recognition for state Assembly member Richard Bloom and U.S. Rep. Adam Schiff, both of whose districts include West Hollywood. Geri Jewell, a performer with cerebral palsy known for her role as Cousin Geri on "The Facts of Life," opened the ceremony with comments about living life as someone with a disability.
The Disabilities Advisory Board was founded by the City of West Hollywood in 1995 to address issues affecting people with disabilities, including ADA compliance, transportation, housing, access to city government and services for people with disabilities. It makes recommendations to the city council regarding programs, policies or ordinances of benefit to the constituency.
Advisory Board members are Chair James Chud and Michael Arrigo, Larry Block, Marco Colantonio, Thomas De Lorenzo, Suzanne Dietrich, Anny Semonco, Louise Smith and John "Rick" Watts.