[hr]
Calpernia Addams
[hr]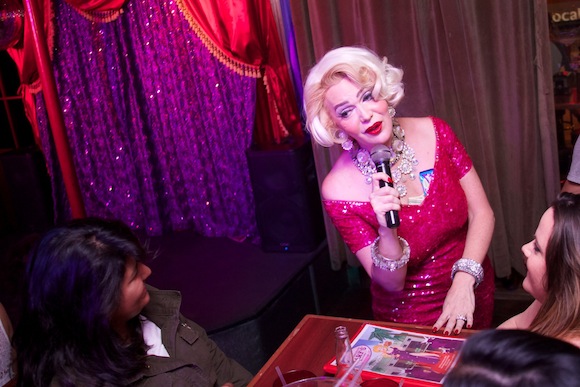 For WEHOville's full directory of celebrity impersonators, click 

here

.
Calpernia Addams could fill volumes with the story of her life.
Born in Tennessee, she came out as a transgender woman in the military. In 1999, she began dating officer Barry Winchell, who was harassed by fellow soldiers because of his relationship with a transgender woman. Later that year, Winchell was murdered. The trial and conviction of Winchell's murderer, according to the New York Times, "galvanized opposition" to the military's "Don't Ask, Don't Tell" policy.
Addams' and Winchell's romance was depicted in the film "Soldier's Girl." Actor Lee Pace portrayed Addams.
In 2008, she starred in Logo's "Transamerican Love Story" and performed alongside Jane Fonda, Glenn Close and Salma Hayek in the 10th-anniversary production of "The Vagina Monologues." Addams had previously organized and directed the first-ever all-transgender production of the monologues in 2004 at the Pacific Design Center in West Hollywood.
She even coached Felicity Huffman for her Academy Award-nominated performance as a transgender woman in "Transamerica."
Beyond activism and entertaining, Addams writes for "Psychology Today" and plays the fiddle.
[hr_dotted]
Q-and-A with Addams
Name: Top Secret
Home city: Hollywood
Where do you perform? I've done shows at the Hollywood Forever Cemetery, New Orleans Superdome, House of Blues L.A. and Anaheim, London's Applecart Festival and Madame JoJo's, and Hollywood Palladium. You can see me weekly at Hamburger Mary's in WeHo, where celebs like RJ Mitte, Felicity Huffman, Taylor Dayne and others slip in regularly to watch.
Other job(s): I'm a published author, certified Apple iOS developer, web designer and computer programmer, actress and musician, and I own my own production company. I work as a casting producer on major reality shows. I also speak at universities and corporate events.
Impersonations: I pay homage to Marilyn Monroe live in my shows, as well as Marlene Dietrich. Since they are "classic Hollywood," I create backing tracks myself in the studio and update the vintage instruments with additional dance beats and synths to keep younger audience members interested.
How long have you been impersonating? I've been working on my Marilyn homage for several years. I am clear with my audience that I am paying homage to her more than trying to "be" her.
What drew you to the person you impersonate? Marilyn is more like a religion to me than a celebrity. I say this with a sense of humor about it, but: One does not try to "become God," one simply tries to study about God and bring as much of God into their lives as possible. It's that way with Marilyn for me, minus the mumbo jumbo and with a strong sense of humor. I try to bring as much of her into my life as possible and study her and become inspired by her. But I know that I cannot BE Marilyn. I'm just a high priestess in her glorious, platinum blonde cult. 😉