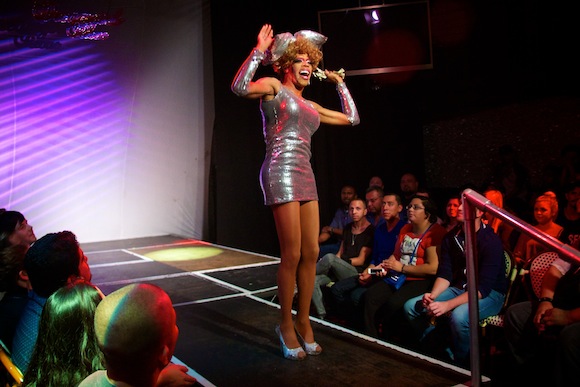 Jasmine Masters knows her way around an impersonation. When we caught up with her at the Dreamgirls Revue, she was decked out as Whitney Houston, but you can find her on YouTube as NeNe Leakes, Missy Elliott, Tina Turner and Sweet Brown. Her recent public service announcement with Willam Belli about the art of reading is required viewing.
[hr_dotted]
Q-and-A with Masters
Name: M.L. Robinson
Age: 37
Home city: Los Angeles
Where do you perform? I perform up and down California and "out of town" at times.
Other job(s): Drag is my only job.
Impersonations: I say I don't impersonate anyone because I don't look anything like her, but I try to do Patti LaBelle. I do her moves with some of me mixed in, and I try to copy some of her outfits.
How long have you been impersonating? My first in drag was performing Patti LaBelle 16 years ago.
What drew you to LaBelle? The way she moves and hops around on stage in five-inch heels and sings, all at the same time. It was amazing to me when I was young. And I would see how the audience would stand on their feet clapping, crying and going crazy. I knew I wanted that. I wanted people to go crazy when I was performing.
To go back to the full directory, click

here

.