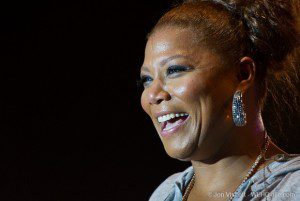 Queen Latifah, the hip-hop pioneer, actress and talk show host, will be crowned "Queen of the Carnaval" at Thursday's Halloween event reportedly expected to draw 500,000 people to West Hollywood.
The Halloween Carnaval, running from 6 p.m. to 11 p.m. along Santa Monica Boulevard from Doheny Drive to La Cienega Boulevard, will include three large entertainment stages with over 50 artists performing.
Unlike last year's private presentation of the title to pop singer Rihanna at Greystone Manor in Los Angeles, Queen Latifah will be crowned before the carnaval crowd by West Hollywood Mayor Abbe Land. The ceremony will occur at 9 p.m. on the main stage ("Noir City Stage") at Santa Monica and San Vicente.
One of Hollywood's most successful stars, Queen Latifah most recently launched her own talk show, "The Queen Latifah Show," in September.
She made her singing debut with her album "All Hail The Queen" in 1989 and has since released numerous hip hop albums. She began her acting career with the hit television series "Living Single," followed by roles in hits such as "Chicago," which earned her an Academy Award nomination, "Bringing Down the House," "Hairspray," "Beauty Shop," "Last Holiday" and "Ice Age 2."
She also owns her own production company, Flavor Unit Entertainment, with her business partner Shakim Compere.
Latifah's private life has long been a source of media speculation. At the 2012 Long Beach LGBT Pride event, she reportedly addressed the crowd as "my people," causing many audience members to believe she had come out, according to the Advocate. She later denied the rumors in an interview with Entertainment Weekly.
Similarly she refused to discuss her personal life and sexuality in a 2008 New York Times interview.
For information on parking, traffic and available shuttle services, click here.