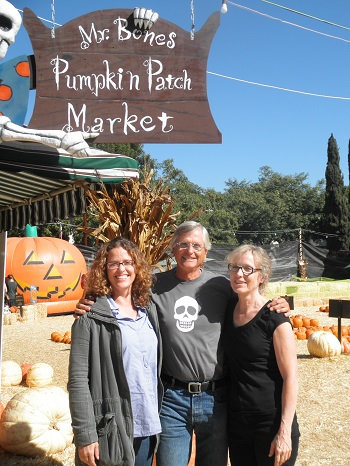 Rows of various-sized pumpkins sit on the hay-covered ground. Goats, sheep and ducks wander around the petting zoo pen. Kids go down a huge inflatable slide and jump inside a pumpkin-shaped bounce house.
Autumn doesn't bring a lot of falling leaves or other visual trappings in sunny SoCal, but it's a special season at Mr. Bones Pumpkin Patch.
"It is really fun," Mr. Bones owner Lyra Marble said. "We get to be the center of joy for this season. People are so happy — and how great is it to have a job that makes people happy?"
This is Halloween at Mr. Bones Pumpkin Patch, located at 702 N. Doheny at Harland — and today could be the  last day the playfully spooky character is a West Hollywood resident. The property owner, Doheny LLC, plans to develop the land, and as a result the family business is looking for a new location.
That family includes Marble and her parents, Rebecca Campbell and Steven Marble. It was Campbell who sewed the seeds by launching the Mr. Bones business.
"I always loved Halloween," Campbell said. She was inspired after she visited a pumpkin patch and left thinking,  "We could do this better."
Campbell's business, which had started with Christmas trees — an aspect of the business that continues with Mr. Greentrees, opening Nov. 23 — expanded to include Mr. Bones. Instead of duplicating scarier, teen-oriented Halloween fare, Mr. Bones took traditional Halloween icons (such as skeletons) and made them into what Lyra Marble calls a "wholesome, spooky, fun experience" that's not too scary for the toddler set.
Campbell  purchased a farm in Oregon, and although she's since sold some of the land, she still has 11 acres. She has lived at Brush Creek Farm since 1989. Campbell is now the "Oregon base" of the business, she said, while her daughter is the L.A. base. Lyra Marble travels to Oregon each summer to visit her mom.
Whatever they don't grow themselves, the family purchases from other farms. They've known their primary holiday tree vendor and many of the people from whom they buy pumpkins for years. They avoid big corporate farms in favor of family operations.
"That's what we do," Campbell said. "That's who we support because it's who we are."
At first, the business was located on Wilshire Boulevard in Beverly Hills. Soon after Lyra Marble took the reins of the business in 2000, she learned they would have to relocate because of plans for development on the original site (now home to a high-rise).
Mr. Bones moved to West Hollywood because of the "amazing location and great neighborhood," said Lyra Marble, whose father came out of semi-retirement to help her with the business. The large space — hard to find in a big city — was another advantage, as was the fact that it was close to their customer base. The city's support was also a factor.
Their first year in WeHo was a 10-day trial run that proved to be a success, and the business stayed in the city for eight years.
"We love being in West Hollywood," Marble said. She likes that WeHo is "such a creative environment," and a lot of people find decorating inspiration at the pumpkin patch.
With development once again pushing Mr. Bones out, Marble hopes that they'll find a new location either in West Hollywood or further west.
If you'd like to visit Mr. Bones on his last day of 2013, his pumpkin patch will be open from 9 a.m.-3 p.m. on Thursday, Oct. 31. For more information, click here.