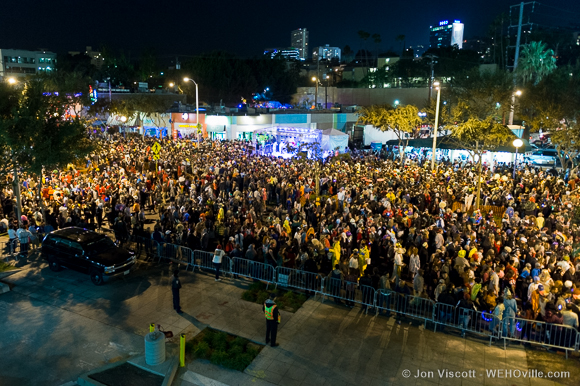 One person was burned at the West Hollywood Halloween Costume Carnaval and about 75 people were arrested during Halloween revelry in Hollywood, authorities said today.
The burn injury was reported at 10:25 p.m. Thursday in the 8500 block of Santa Monica Boulevard, near one of the performance stages at the carnaval, which drew an estimated half-million people.
The victim — said to be a 50-year-old man —  was transported to a local hospital, where he was later pronounced dead, according to the Los Angeles County Sheriff's Department.
One person suffered a head injury in the area of Hilldale Avenue and Santa Monica Boulevard and was taken to a hospital at about 11:20 p.m. Thursday, county fire dispatcher Ed Pickett said.
An estimated 500,000 people attended the carnaval, said the watch commander at the sheriff's West Hollywood Station.
There were about 100,000 people on the streets in Hollywood, where about 45 people were arrested on suspicion of drunk and disorderly-type offenses, Officer B. Smith of the LAPD's Hollywood Station said early today.
Aside from those arrests, no unusual incidents or injuries were reported, he said.
Elsewhere, a boy wearing a G.I. Joe costume was separated from his parents for about 45 minutes Thursday on Wilton Place at Third Street in Koreatown. LAPD Olympic Area officers say it was merely a miscommunication in the trick-or-treat hubbub.
A pedestrian was hit by a car at about 8:15 p.m. Thursday on Valerio Street, near Corbin Avenue, in the Winnetka section of the western San Fernando Valley. That person was hospitalized with undisclosed injuries.
There were no trick-or-treat-oriented injuries in Los Angeles as of 9:15 p.m. Thursday, according to Katherine Main of the Los Angeles Fire Department.