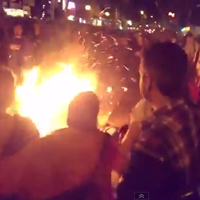 Authorities investigating the death of a man burned in West Hollywood on Halloween night say the incident was likely caused when the man tried to light a cigarette and set his costume on fire.
"It was most likely an accident," said Sgt. Richard Biddle of the Los Angeles County Sheriff's Department. Biddle stressed that detectives are still investigating.
According to Biddle, at least two people who saw the man, Gilbert Estrada, 51, become engulfed in flames say his costume hood caught fire as he tried to light a cigarette. Biddle believes the man's hood was made of burlap, grass and straw.
Burlap is a woven fabric made from the skin of jute plants commonly used to make bags. It is extremely flammable.
According to the LA Times, Estrada was dressed in a "ghillie suit," which is a type of camouflage clothing used to resemble foliage.
The man was engulfed in flames during a concert in the middle of the street as an estimated 300,000 people partied in West Hollywood. He died the next morning at Cedars-Sinai Medical Center.
Estrada's brother has created a GoFundMe page where he is seeking donations for help with funeral and burial costs.
A video of the incident posted on YouTube Friday shows a ball of flame erupting at the back of a large crowd watching the "Pulp Friction" stage at the huge street party.
Watch the video here. (Warning: It is very graphic.)
To share information on how the victim became engulfed in flames, contact the Los Angeles County Sheriff's Department's Homicide Bureau at (323) 890-5500.