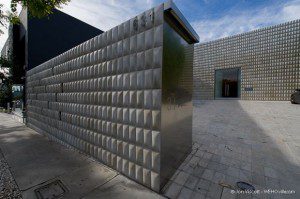 WeHo fashion boutique 3.1 Phillip Lim, 631 N. Robertson at Melrose, was burglarized on Monday morning.
LA Racked reported that the burglary took place at 4 a.m. A Phillip Lim employee confirmed that a burglary took place but declined further comment because the matter is under investigation.
No additional details were immediately available from the sheriff's department.
In mid-September, the launch of Phillip Lim's target collection brought out big lines and a scuffle for the company's popular handbags.
A few months ago, another Robertson boutique, Kitson, less than a half a mile away from Phillip Lim located  at 115 N. Robertson at Alden was burglarized.
The Kitson burglary had a strange twist; it was broken into by someone who tunneled through the wall from an adjacent public bathroom.