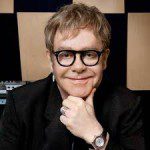 Can you feel the love tonight — the love for panoramic views, Hollywood star neighbors and furniture left behind by rock 'n' roll hall of famer and AIDS activist Elton John?
We don't mean to go breaking your heart, but the one-bedroom West Hollywood condo previously owned by John will cost you a cool $3.995 million. Located in the Sierra Towers high-rise, the condo still includes furniture and "knickknacks" that were once John's, according to the L.A. Times.
The property is being sold by developer Brendan Deschamps, who last year purchased two Sierra Tower condos that had been owned by the famous singer. Unlike Deschamps, though, you can't collect them all—the smaller condo was already sold in September.
The developer, who paid $4.65 million for both properties and sold the smaller condo for $1.7 million, stands to make a total profit of about $1 million if the larger unit goes for its asking price.