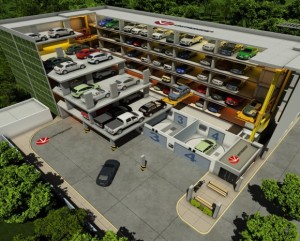 West Hollywood's City Council voted unanimously Monday night to approve two contracts with construction management company Heery International for oversight of the automated parking "robo-garage" and the next phase of the West Hollywood Park redesign.
The Georgia-based Heery will supervise the construction of the new automated parking garage behind City Hall at 8300 Santa Monica Blvd. at Sweetzer. Construction on the "robo-garage" is scheduled to start in January 2014 and be completed by June 2015. The city will pay Heery $1,200,000 for oversight of the project with money coming from the $18 million in bonds the city sold in September to finance the project.
Heery will also provide oversight for phase 2 of the West Hollywood Park redesign, which includes building a five-story, 71,000-square-foot recreation center with two rooftop swimming pools in the space where the El Tovar parking lot (behind the five-story library parking deck) now sits. Construction on phase 2 is still a year or more away, but Heery will oversee the pre-construction work, which includes estimating costs, scheduling services, etc. The city will pay Heery $580,000 from future bond sales to finance the park construction.
The city first contracted with Heery in 2008 for construction oversight for the West Hollywood Library and phase 1 of the West Hollywood Park redesign. Heery also did much of the pre-construction oversight work on the "robo-garage." Since this is viewed as a continuation of the work Heery has already been doing, the city did not put the contracts out for bid.
Heery's Dan Adams, who served as the project manager for the library and phase 1 of the park, is expected to continue in that capacity on these two projects. The city provides an office for Adams in the Werle Building at 626 Robertson Blvd. adjacent to the park.
During the summer, the city also hired Heery for construction oversight of the giant Sunset-La Cienega retail-hotel-residential project, which broke ground in August on the south side of Sunset Boulevard at La Cienega Avenue. While the CIM Group is developing that project, which is still commonly referred to by its original name of "Sunset Millennium," the city felt it needed someone to act as its liaison/advocate due to the project size. The CIM Group is covering the $500,000 cost of hiring Heery.
The city also hired Heery to oversee plans for "mothballing" (temporarily preserving) the city-owned house known as "Tara" at 1343 N. Laurel Ave., south of Sunset, until public meetings are held to determine its ultimate use.