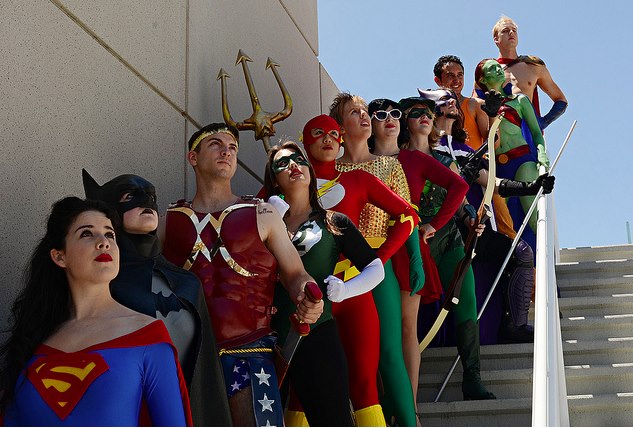 Halloween is over, but for some pop culture enthusiasts it's not yet time to pack away the costumes.
Hundreds of LGBT and allied (or "un-gay" in the Bent-Con lexicon) enthusiasts of all things geek — from comics to gaming to sci-fi and more — will gather for Bent-Con, an LGBT convention with panel discussions, vendors, a costume contest and other events on Nov. 8-10 at the Marriott Convention Center in Burbank.
Bent-Con, launched in 2010, was initially meant to take place in West Hollywood, but before it even took place it became clear it wouldn't fit in its intended venue. Instead, the first Bent-Con took place in Silver Lake, and since then Bent-Con has moved to Downtown Los Angeles and then to Burbank. Sean Maker, the nonprofit's president and founder, says the crowd has grown each year, reaching 2,500 in 2012. He hopes attendance will double this year.
"I love to create a space that's about bringing people together," said Maker, who wishes there was more diversity in graphic novels and other pop culture work. He said that LGBT works get "mixed results" at mainstream conventions like Comic-Con.
Bent-Con, he said, is a safe space where, "whatever you're into, you don't have to worry about people batting an eye."
The convention's offerings are "a real mix," he said, of content related to comics, television, gaming and film. Some of the featured speakers, panelists and guests include: Claudia Christian ("Babylon 5"); Jane Espenson (writer, "Buffy the Vampire Slayer," "Husbands"); West Hollywood writer Christopher Rice; comic and writer Liz Feldman ("The Ellen DeGeneres Show"); and many others.
Advance tickets (membership badges) cost $50 for a three-day badge ($60 at the door); $25 for a one-day badge for Friday- or Saturday-only ($30 at the door); and $20 for a one-day badge for Sunday-only ($25 at the door). There will be a special LGBT youth and family celebration on Sunday, with badges for youth 11-17 costing $10 in advance or $15 at the door.
For more information, or to purchase tickets, visit www.bent-con.org.