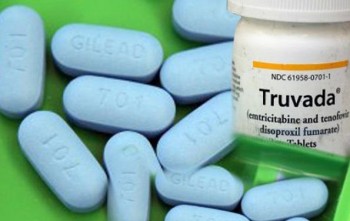 A drug regimen known as PrEP, whose role in HIV prevention has sparked disagreement among medical and HIV/AIDS professionals, will be discussed at two West Hollywood forums this week. PrEP (pre-exposure prophylaxis) is the use of an anti-HIV drug by those not infected with HIV to reduce the likelihood that they will become infected by the virus.
The first discussion, titled "PrEP: The Choice of the Next Generation?" is being organized by Alex Garner, former editor-at-large for PositiveFrontiers.com and now with the National Minority AIDS Council. It will be held Thursday at 7:30 p.m. at the West Hollywood Library. The panel will include Dr. Terry Smith from AIDS Project Los Angeles (APLA) and PrEP users. Listed as supporters are APLA, the Dr. Michael Gottlieb HIV/AIDS Information Center, the National Minority AIDS Council, Project Inform, the Stigma Project, Frontiers Magazine and the City of West Hollywood..
A Saturday "PrEP Talk" panel at Hollywood Improv at noon put on by Impulse Group, an organization of young men focused on HIV prevention that is sponsored by AIDS Healthcare Foundation (AHF), will include Aaron Laxton, blogger for thebody.com, AHF President Michael Weinstein and AHF Regional Medical Director Michael Wohlfeiler. Impulse Group also will screen a short film called "Knowing" at the event.
Dr. David Hardy, chairman of the AIDS Research Alliance, will participate in both panel discussions.
Weinstein has been an outspoken critic of PrEP, suggesting that it may lull some gay men into not using condoms for sex, increasing their risk of exposure to HIV. Garner, a supporter of the regimen, argues that it is likely to reduce HIV transmission in a world where unprotected sex among gay men is a reality.
Garner said the fact that two panels are coming up demonstrates that the community is interested in PrEP. The issue of HIV/AIDS is particularly important in West Hollywood, 40 percent of whose population is composed of gay men.
"Having more and more informed and fact-based conversations will assure that negative men are well-educated on the issue and are empowered to take control of their health," Garner said. "This should be seen as the first of many dialogues on PrEP. This is our opportunity to have conversations about young gay men's prevention options and how PrEP, as part of a comprehensive strategy, might be an option for them."
A joint news release from Impulse Group and AHF, meanwhile, expressed reservations about PrEP.
"While AHF does not discourage any doctor – even AHF doctors – from prescribing PReP to patients who may ask for it, we have grave concerns regarding the efficacy of the drug," Weinstein said. "Outside of sero-discordant relationships, we feel that a chemical response that alters a healthy person's state of wellness should not be the first line of defense against HIV."
The FDA approved the use of the drug Truvada as a pre-exposure prophylaxis in July 2012.
"As part of PrEP, HIV-uninfected individuals who are at high risk will take Truvada daily to lower their chances of becoming infected with HIV should they be exposed to the virus. A PrEP indication means Truvada is approved for use as part of a comprehensive HIV prevention strategy that includes other prevention methods, such as safe sex practices, risk reduction counseling, and regular HIV testing," an FDA news release said.