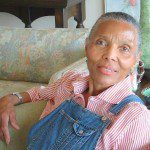 Kim Hamilton, an actress who lived in West Hollywood for more than 45 years, died in September according to a report just published by Variety.
Hamilton, who lived at 1229 Horn Ave., performed on stage and television and in films. Hamilton, who was African-American, was the wife of the late Werner Klemperer — Col. Klink on "Hogan's Heroes" — at a time, Variety noted, when mixed marriages were uncommon. Hamilton died of natural causes on Sept. 16, four days after her 81st birthday.
Hamilton's most recent role was in "The Beginners" (2010) https://en.wikipedia.org/wiki/Beginners. Her most prominent roles in her 60 years as an actor were as the wife of Brock Peters in "To Kill a Mockingbird" and the wife of Harry Belafonte in "Odds Against Tomorrow."
Her television career included performances on "Ben Casey," "Dr. Kildare," "The Twilight Zone," "Stony Burke," "All in the Family," "The Jeffersons," "Sanford & Son," "Quincy M.E.," "Law & Order," "Star Trek: The Next Generation" and "Private Practice." Her first TV role was as the girlfriend of Andrew Hogg Brown, the "Andy'" on "Amos & Andy." Hamilton was the only African American actor to appear on "Leave It to Beaver" and the first to appear on"General Hospital."
Her stage performances included the role of Ruth in Lorraine Hansberry's "Raisin in the Sun. " Other roles were in August Wilson's "Fences" and in a production of "The Blacks" at the Mark Taper Forum and at the Ivar Theater.
Columbia University honored Hamilton with a Life Achievement Award in 2007. The NAACP gave her its Image Award for her performance in the play "Like One of the Family." She also won a Dramalogue Award for that Theatre West production.
In an email message to residents of the West Hollywood Heights Neighborhood Association, association President Elyse Eisenberg described Hamilton as a very private and "lovely woman, probably the most long-term resident in this neighborhood and one of the longest in West Hollywood."
Survivors include her daughter, four grandchildren and four great-grandchildren.