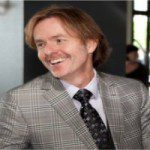 The Pacific Design Center has named Jeff Sampson, former vice president of marketing with Merchandise Mart Properties, as director of marketing for the PDC.
The PDC's large red, green and blue buildings house more than 130 furniture and accessory wholesaler showrooms and various creative businesses on a large property at the intersection of Melrose Avenue and San Vicente Boulevard.
"Jeff comes to the Pacific Design Center with significant marketing experience in the interior design, showroom and publishing industries," said Charles S. Cohen, the PDC's owner. "During his 11 year tenure at MMPI, Jeff launched and developed a broad spectrum of brand-building initiatives, communications programs and special events to serve the Southern California design professional while advancing showroom/manufacturer success. Jeff will bring great ideas and efforts to the design community of the Pacific Design Center and we welcome him with open arms and with great enthusiasm."
Prior to his role at the PDC and his last position at the MMPI, Sampson served in various senior marketing posts for print and broadcast media including Los Angeles Magazine and KCET Television/PBS. His projects with multi award-winning architectural firms have received honors, including a Best of Year award from Interior Design Magazine and two Calibre award nominations from the International Interior Design Association. Sampson has also co-produced numerous fundraisers for national non-profits, to include the American Foundation for AIDS Research (amfAR) and DIFFA's Dining By Design.