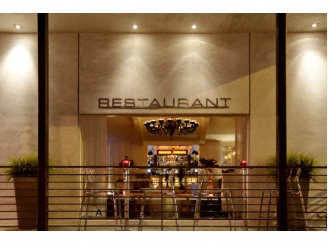 A settlement has been reached in a long-running civil case in which an ex-con nightclub entrepreneur romantically linked to various female celebrities allegedly broke a promise to reinvigorate a now- defunct West Hollywood restaurant.
The court assistant to Los Angeles Superior Court Judge Yvette Palazuelos confirmed today that the case between Chris Paciello and the former owners of the Murano restaurant at 9010 Melrose Ave. near Almont Drive was resolved just days before the scheduled start of trial on Tuesday. Paciello's lawyers, Keith Fink and K. Keven Steinberg, could not be immediately reached for comment.
The case was one of the oldest on the downtown civil case docket. In December 2008, businesswoman Sandy Sachs and psychologist Robin Gans, through their company, Murano Ristorante Partners Inc., sued Paciello over the remodeling and operation of the Murano, alleging the former Miami nightclub owner was liable for negligent misrepresentation, breach-of-contract and detrimental reliance. The commencement of trial was beset by numerous delays, including medical problems suffered by both a previous judge and by a former attorney for Paciello. After the case was reassigned to Palazuelos, the judge had to deal first with Katherine Jackson's negligent hiring trial against AEG Live concerning the death of her son Michael at the hands of Dr. Conrad Murray. That trial lasted five months.
According to the Sachs-Gans court papers, Paciello — whose real name is Christian Ludwigsen — told them in June 2008 that he was interested in investing $600,000 in their restaurant in exchange for 50 percent of the company's common stock.
But Sachs and Gans say they found out Paciello — who dated Madonna in the early 1990s and has also been romantically linked to actresses Jennifer Lopez and Sofia Vergara, former MTV host Daisy Fuentes and models Niki Taylor and Naomi Campbell — was a felon and barred from owning stock in a business that sells alcohol. The Brooklyn, N.Y., native spent seven years in prison. In October 2000, he pleaded guilty to a 1993 murder and armed robbery for being the getaway driver in a home-invasion robbery in Staten Island in which a housewife was fatally shot.
Gans and Sachs say Paciello agreed to lend them $600,000 if they remodeled Murano and reopened by Labor Day with a chef picked by him. He assured them, according to their court papers, "that with his celebrity connections like Kevin Connolly, Leonardo DiCaprio — who is producing a movie about the nightclub king's life — Madonna and many more, that (Murano) would become the hot spot in Los Angeles."
Although Gans and Sachs completed the improvements, Paciello loaned them only $350,240, claiming he could not provide the rest because he was "broke," according to the plaintiffs.
Paciello, 42, countersued in January 2009, naming Sachs and Gans, as well as Murano Ristorante Partners Inc. Paciello's attorneys later dropped Gans as a defendant. Paciello's complaint was consolidated with the original case. He alleged fraud and deceit, breach of a written contract and both intentional and negligent misrepresentation.
Paciello's suit stated that he lent the women $400,000 in exchange for their promise to make him the "front man" at Murano, with a management fee distribution equal to half of Murano's profits. Instead, he alleges, Sachs "exerted control over every aspect of the restaurant, most of the time detrimentally interfering with management and operation." The $400,000 Paciello claimed he lent the women was not repaid, according to his suit.
Paciello formerly owned the nightclubs Liquid and Bar Room in Miami's South Beach area, as well as the Cristoni Pizzeria locations in Beverly Hills and West Hollywood. He later returned to Miami Beach to help revitalize the Delano Hotel as a destination for celebrities. "Kings of South Beach," a film loosely based on Paciello's life in Florida, was released by the A&E Network in 2007.