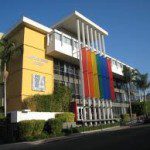 The L.A. Gay and Lesbian Center is beginning a $25 million campaign to finance a major expansion, which is expected to take four or five years to complete.
The expansion plans include creating an "LGBT campus" consisting of the center's Village location, 1125 N. McCadden Place at Santa Monica, as well as the land across the street from that building, Greg in Hollywood reported.
The center recently purchased that land, where it plans to build housing for LGBT seniors and homeless youth. The center has multiple locations, including an HIV/STD testing and treatment facility called the Spot in West Hollywood.
CEO Lorri Jean announced the fundraising and expansion plans on Saturday night at the center's anniversary gala, where the organization honored out basketball player Jason Collins as well as Netflix, whose "Orange is the New Black" is receiving many accolades from LGBT viewers.