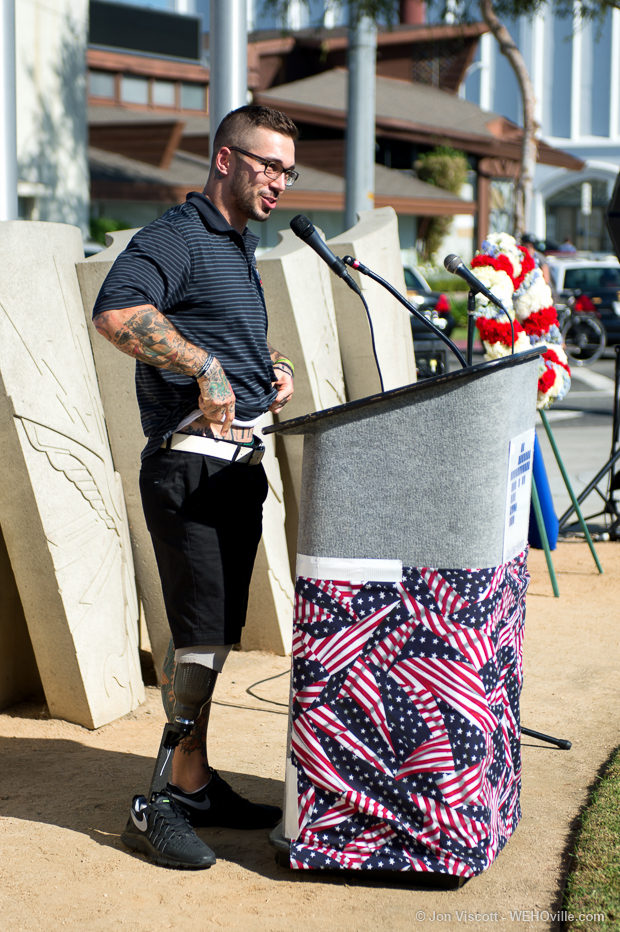 A ceremony recognizing Veterans Day took place Monday morning at West Hollywood's Sal Guarriello Veterans' Memorial.
"We must never, ever leave our veterans behind," said Air Force veteran Andy Harland, who worked with Guarriello to create the memorial that now bears his name. Guarriello, a veteran and a longtime WeHo City Councilmember, died in 2009.
Harland talked about the many occasions that the memorial park, opened on Veterans Day in 2003, has been the site of poignant occasions such as remembering fallen soldiers and celebrating the repeal of the "Don't Ask, Don't Tell" policy which had banned openly lesbian, gay and bisexual people from serving in the armed forces.
In addition to past and current servicemembers, the lineup of speakers included Brad Burlingame of Visit West Hollywood. Burlingame shared the story of his brother Charles "Chic" Burlingame, a solider and pilot who was flying the plane that crashed into the Pentagon on Sept. 11, 2001. Burlingame was initially denied burial at Arlington National Cemetery, but the family eventually won their fight to have him buried there.
Once they triumphed in that fight, Brad Burlingame said, he broke down in tears. He didn't know what he could do. Then he realized what he could do: take part in events such as the Veterans Day ceremony.
The effect of Burlingame's story on the audience was clear, and the next two speakers were noticeably emotional as they shared their own stories.
One of those speakers was Mylee YC, a veteran and a breast cancer survivor who suffers from post-traumatic stress disorder (PTSD). She talked about the challenges she will face as she re-adjusts to civilian life.
Congressman Adam Schiff said it is important to get veterans, including "those that come back with invisible wounds" such as PTDS, the treatment they need.
Both Mayor Abbe Land and Councilmember Jeffrey Prang talked about the importance of making sure that veterans have access to the services they need.
"Homelessness and mental illness are pervasive in veterans," Prang said. "Our obligation to our veterans does not end the day they take their uniform off."
The ceremony also included a closing song by Jonathan Allen ("America's Got Talent"), and the national anthem sung by a Gay Men's Chorus of Los Angeles ensemble that included Councilmember John Duran.
To see Jon Viscott's photos of the ceremony's guest speakers, click below: