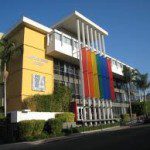 The Los Angeles Gay and Lesbian Center has been designated as a "federally qualified health center," and awarded a grant of $650,000 by the U.S. Department of Health and Human Services.
The designation is given only to clinics that meet the highest standards of care and serve underserved populations. The Center provides primary care services for LGBT people. The FQHC designation and award will enable the Center to eventually provide medical care for more than 4,000 additional patients, particularly low-income people on Medicaid. The Center is one of the few LGBT clinics in the nation to receive the FQHC designation and the only such clinic in California.
"This is a huge turning point for the Center and for the LGBT community of Los Angeles because we have always believed that health care is a right for every single human being," said Christopher Brown, the Center's Health and Mental Health Services director. "For far too long, LGBT people have suffered discrimination in health care/ This FQHC designation and award is not only a validation of the Center's outstanding medical services, but also an important recognition by the Obama administration of the unique and important health needs of LGBT people."
Since 2009 the Center has operated as an FQHC "Look-Alike," which means the medical clinic has met many of the government's standards for FQHC designation but has not received the annual awards accompanied by the full FQHC designation. The Center reapplied for the full FQHC status in April 13 and was notified of its designation on November 6.