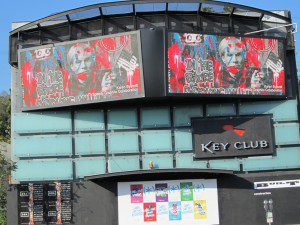 The City of West Hollywood is collaborating with Art Goes Electronic to offer artists a chance to display their work on a digital billboard at 9039 Sunset Blvd. near North Doheny Drive.
Artists may submit up to six pieces each in a given month. Works chosen for exhibition will rotate, with each work visible for up to two hours a day on Sunset, which is traveled by tens of thousands of motorists each day. The work should be submitted a month before its intended exhibition.
Each month the art exhibited will relate to a different theme. The themes are: January – Street Art, February — African American History Month, March – Women's History Month, the Oscars (artwork relating to "Hollywood") and Cesar Chavez Day (artwork created by or depicting Latino/a people, April – Month of Photography in LA/Earth Day, May 2014 – Senior Month (artwork created by or depicting seniors) and West Hollywood Russian Cultural Festival (Artwork created by or depicting Russian/Eastern European people), June – One City, One Pride Queer Arts Festival and Pride Month, July — Open themes and Independence Day, August — – Sunset Strip Music Festival, September — open themed month and WeHo Book Fair, October — Disability Awareness Month (artwork created by or depicting those with disabilities, November – Transgender Awareness Month (artwork created by or depicting transgender people) and December- World AIDS Day and Human Rights Month. The full list of themes and categories is available online.
The display area is 10 feet high by 20 feet wide. Submissions must meet the following standards:
Display Resolution: 288 pixels (H) x 640 pixels (W)
File Resolution: 72 dpi
File Format: .jpg or .bmp
Duration: 14 seconds
Avoid white backgrounds, use off-white instead.
More information on this program is available by emailing weho-age@verizon.net.