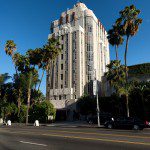 Sunset Tower, the hotel that boasts the most star power on the Sunset Boulevard firmament, no longer will host the Vanity Fair Oscar party.
Hollywood Reporter reports that Vanity Fair, which has held the party there since 2009, is looking for a venue than can accommodate more people. Its typical guest list now includes 1,000 celebrities and motion picture industry powers.
Vanity Fair Editor Graydon Carter moved the party to the Sunset Tower in 2009 from Morton's, which has since closed. At that time Carter was quoted as saying he was looking for a more intimate venue. Sunset Tower is known for its sweeping views of the Los Angeles skyline and for a restaurant and bar that are a quiet gathering place for A-list actors, director and producers.
The Reporter said Carter is considering moving the event to a parking lot at Sunset Plaza that offers more space and equally impressive views. That likely would be the lot on the south side of Sunset behind such restaurants as Clafoutis and Le Petit Four.
The Vanity Fair Oscar party is the successor to one launched in April 1964 by Irving "Swifty" Lazar and his wife Mary. Lazar's Oscar event moved from a small dinner at the Bistro in Beverly Hills to a one-time staging Warner LeRoy's Tavern on the Green in New York City in 1977, eventually settling at Spago in 1985. The party went dark with Lazar's death in 1993. Steve Tisch and Graydon Carter picked up the reins with a party at Morton's the next year. When Morton's closed in 2007 it was moved to the Sunset Tower, whose owner, Jeff Klein, is co-owner with Graydon Carter of New York City's Monkey Bar.