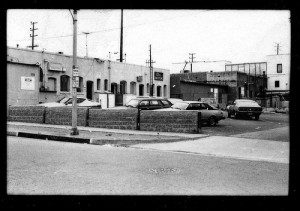 West Hollywood City Council candidate Lucas John Junkin is proposing that the city celebrate the leather and fetish communities with a street fair similar to San Francisco's famous Folsom Street Fair.
Junkin appeared before the city's Lesbian and Gay Advisory Board (LGAB) Thursday night to present his idea for the fair to recognize a notorious gay cruising spot dubbed Vaseline Alley. "Vaseline alley" is the parking area and alleyway just south of Santa Monica Boulevard between Havenhurst Drive and North La Jolla Avenue where gay men once met for anonymous sexual encounters.
"[Vaseline Alley] was a historic cruising ground before the days of Grindr and online cruising spots," said Junkin, who is owner of the Weho Confidential website. "It's a core piece of gay history, a part of our culture even though times have changed. This would be a leather themed party celebrating Vaseline alley."
Junkin envisions a two-day event happening in the alley and parking lots behind the 8200 block of Santa Monica Boulevard. The Gold Coast bar and the Out of the Closet thrift store are in that block.
Junkin said he wants to have demonstrations and playful events such as lube wrestling, a tattoo workshop, whipping and bondage play — activities similar to those that take place in the Erotic City section of the LA Pride festival at West Hollywood Park. All activities would emphasize safer sex. He said the area would be barricaded or fenced off, but would have a grungy feel to it, in keeping with the Vaseline alley theme.
"We want that grungy look but will create a 'Disneyland' version of it," said event producer Kimberly Seeherman, owner of Events by Fabulous. "It would be an out-of-the-box way of celebrating gay history and gay sex."
LGAB members were enthusiastic about the idea, voting unanimously to endorse the concept. However, the group held off committing any money toward the project until seeing a more detailed budget. Seeherman estimated it would cost about $50,000 to put on. Junkin said he'd already talked to several groups that were interested in funding part of it.
Mike Gerle, a former International Mr. Leather, gave his enthusiastic support. "We need to get past our own fear and phobia about embracing our sexuality. In moving toward acceptance, we've been whitewashing sex," said Gerle during the public comment portion of the presentation. "We can ignore Vaseline alley, we can rewrite it and say it was something that it wasn't, or we can celebrate it."
Board member Elizabeth Sandberg also loved the idea.
"We do need to celebrate gay sex," said Sandberg. "We also need to celebrate sex among women. The more we elevate sex, the happier I am."