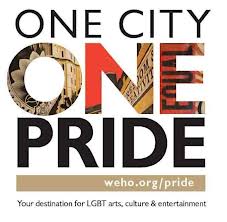 The City of West Hollywood's One City One Pride cultural events program would be rebranded as the West Hollywood Queer Arts Festival under a proposal submitted to the City Council.
The proposal is part of an analysis by the city's Economic Development Division of the One City One Pride events, staged each June as part of LA Gay Pride, that will be presented to the council at its meeting tonight.
The analysis found that promoting various arts and cultural events under the One City One Pride banner, which began in 2009, has resulted in an increase in attendance at such events. For example, an expanded calendar of events in 2012 increased attendance by 12 percent over the year before. The City of Los Angeles's 2012 calendar of LGBT arts and cultural events showed that 40 percent were staged in West Hollywood. In 2013, 75 percent of the Los Angeles LGBT events were in West Hollywood and 65 percent of them were supported in some way by the City of West Hollywood.
While the city's efforts to organize and promote LGBT events as part of its One City One Pride month have been successful, the report noted that there is confusion about what city the events are associated with. "By rebranding the name, the city may have a title that clearly conveys what the festival is about and draws attention to the fact that it takes place in West Hollywood," the proposal said. The city already is using the West Hollywood Queer Arts Festival name on its website.
That need for clarity about the location of the annual Pride celebration also has been raised by critics of the LA Pride Parade and Festival, around which the One City One Pride events are staged. Some have argued that LA Pride should be rebranded to indicate that the parade and festival take place in West Hollywood. While the gay population of Los Angeles is spread across communities such as Silver Lake, downtown Los Angeles and West Hollywood, to name a few, 40 percent of West Hollywood residents are gay men, giving it the largest concentration of LGBT people in the greater Los Angeles area. LA Pride is a production of Christopher Street West, the non-profit organization whose own name is taken from the street in New York City where riots against police by gay men in 1969 are credited with launching the gay liberation movement.
The One City One Pride analysis reports that that the city produced or publicized 40 different programs, performances or events, ranging from a "pop-up" theatre performance about gay activist Harvey Milk, to an exhibit of work by Chicano artist Joey Terrill to Install: WeHo, overnight installations by queer artists in shipping pods and UHaul containers.
A survey of attendees, which the city's analysis says is not definitive, indicates that 42 percent were ages 45 to 60, 17 percent were ages 26 to 35 and 15 percent were ages 35 to 45. The skew toward older people is a likely result of difficulty in collecting information at events such as Install: WeHo, which attracted an apparently younger crowd, and the fact that those who attend theatre and similar cultural events tend to be older. The analysis notes that the older demographic is one that has raised questions about how relevant CSW's LA Pride parade and festival is to its interests. Two-thirds of the attendees were men and one-third were women.
The analysis also found that attendees were overwhelmingly Caucasian (55 percent), with nine percent identifying as Middle Eastern, eight percent as Hispanic, six percent as African-American and four percent as Asian. Fifty-five percent of those who attended One City One Pride events were West Hollywood residents or regular visitors. The analysis showed that the events have a significant economic impact on West Hollywood, with 78 percent reporting that they planned to spend money at a West Hollywood bar, restaurant or shop while attending an event.
For 2014, the Economic Development Division recommends concentrating the events in a seven- to ten-day period to make the workload more manageable. It proposes "I Do" as an overall theme for the events, acknowledging the U.S. Supreme Court's decision in June to strike down Proposition 8 and permit gay marriage in California.