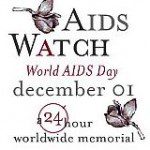 In commemoration of World AIDS Day the City of West Hollywood is co-sponsoring AIDSWatch 2013. AIDSWatch is a 24-hour electronic art piece and memorial shown every year on World AIDS Day that will broadcast on WeHo TV.
AIDSWatch presents one name, one memory, one life at a time, appearing on a black screen in stark white letters. The AIDSWatch roster consists of 24,680 names individually shown for about 3.5 seconds, the length it takes to take one breath. Residents and community members who have lost family or friends to AIDS are encouraged to include them in the AIDSwatch roster. AIDSWatch was launched in 1996, on the ninth World AIDS Day, by David Reid.
The public is invited to contribute names of people to whom they would like to pay tribute on AIDSWATCH. Names may be added at www.aidswatch.org.
World AIDS Day is held on Dec. 1 each year, providing an opportunity for people worldwide to unite in the fight against HIV, show their support for people with living with HIV, and to commemorate people who have lost their lives. This year will mark the 25th anniversary of World AIDS Day.