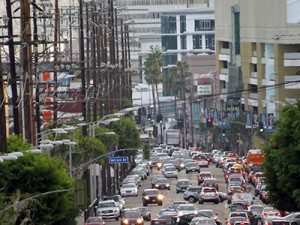 Acknowledging that traffic congestion is out of control in the city, the West Hollywood City Council voted unanimously Monday to station officers to direct traffic at busy intersections throughout the city during the afternoon rush hour.
However, those traffic cops will not begin working for several more months because the council decided more input is needed from city staffers before implementing the plan.
"I'm willing to try just about anything to find relief [from traffic congestion]," said Councilmember Jeffrey Prang.
Councilmembers John D'Amico and John Duran sponsored the idea, contending that traffic congestion affects residents' quality of life and hampers the city's economic competitiveness.
Citing a 1,320 percent increase in gridlock tickets issued in a 30 month period – 35 tickets were issued in January 2011, while 464 tickets were issued in June 2013 – D'Amico said traffic officers are needed as gridlock will only worsen with several new construction projects currently underway or soon to start.
The council was especially concerned with how to measure whether the plan is successful, saying it needed more than just anecdotal information to determine if its working.
"If it doesn't work, we need to understand why," said Mayor Abbe Land.
Thus the council will seek more information from city staff members, sheriff's deputies and the Transportation Commission before proceeding. The council will hold a joint study session with the Transportation Commission in early February.
D'Amico and Duran suggested stationing sheriff's deputies and parking enforcement officers from 4 to 7 p.m. at six intersections along Santa Monica Boulevard – Doheny Drive, San Vicente Boulevard, La Cienega Boulevard, Crescent Heights Boulevard, Fairfax Avenue and La Brea Avenue – and at three intersections along Sunset Boulevard – Doheny, Horn Avenue-Holloway Drive and La Cienega.
Councilmember John Heilman said morning rush hour traffic officers might be needed as well.
The plan could cost $60,000 per month, depending on the number of sheriff's deputies and traffic enforcement officers used. D'Amico said the sheriff's deputies would cost $70 per hour per person, while traffic enforcement officers with training in directing traffic would cost $40 per hour per person.
As part of the plan, traffic lights will be synchronized in the city to allow for better traffic flow.
The city of Los Angeles has stationed traffic officers at 38 busy intersections, particularly in West LA near the 405 freeway, since 2005 and has seen rush-hour commute times reduced by as much as 20 percent.