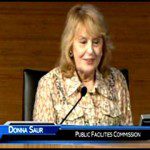 It's official. Sort of. West Hollywood City Council member John Duran has registered with the California Secretary of State's office to declare his candidacy for the LA County Supervisor's seat now held by Zev Yaroslavsky. And Donna Saur confirmed to WEHOville that she will run for a seat on the West Hollywood City Council in 2015.
Duran has said previously that he is considering a run for the Third District seat on the five-member Board of Supervisors, which is the executive and legislative body that governs Los Angeles County. The Third District covers a large area of almost two million people across 431 square miles that includes Silver Lake and North Hollywood, Santa Monica and Malibu as well as West Hollywood. His filing a report with the California Secretary of State's Office about formation of the Duran for County Supervisor 2014 campaign finance group confirms his entry in the race. Political observers estimate he will need to raise $2 million to fund the campaign for the June 2014 election. Already announced as a candidate for the race is former state Assembly member Sheila Kuehl, the first openly gay person elected to the California legislature when she won a seat in 1994. With the entry of Duran, who also is gay, there will be two gay candidates for the seat that Yaroslavsky is giving up because of term limits. LA Weekly has quoted Kuehl as saying she will need to raise at least $1.4 million for her campaign.
Donna Saur, a member of the West Hollywood Public Facilities Commission and deputy to the late WeHo Councilmember Sal Guariello, confirmed to WEHOville her rumored interest in running for the council in 2015. "I plan to," Saur said, noting that the election is still a year and a half away. "We never know what fate has in store for us, but as long as my life is fruitful and I can be helpful, I will run."
Saur joins other announced candidates for seats held by incumbents John Heilman, John D'Amico and Abbe Land. They include Larry Block, owner of the Block Party clothing stores, Lucas John Junkin, an event promoter and publisher of WeHo Confidential, and Tristan Schukraft, owner of ID Technologies 90. Also rumored to be running is Heidi Shink, a newly appointed member of the city Planning Commission.