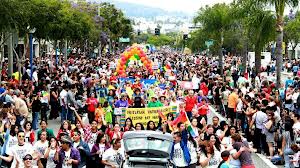 With new co-presidents now heading Christopher Street West (CSW), the group that produces the city's annual gay pride celebration, the West Hollywood City Council opted to postpone a scheduled discussion about ways to improve the pride festivities until January.
Last week, longtime CSW President Rodney Scott stepped down, replaced by CSW board members Patti DiLuigi and Steve Ganzell as co-presidents. Scott, who served as president for 12 years, will stay on the board as president emeritus.
Councilmember John D'Amico suggested the delay, saying it was best to give Ganzell and DiLuigi time to settle into their new position. D'Amico and Councilmember John Duran will meet with the two in December, then return with a report in January.
Duran and D'Amico have been periodically meeting with CSW officials since January 2012 to discuss ways to improve the festival and parade, which have long been criticized by residents as being "tired," irrelevant to their lives, lacking creativity and lacking a political component.
The city's Lesbian and Gay Advisory Board (LGAB) held a town-hall forum on Oct. 30 to get community input about the pride festival, held each June in West Hollywood Park, and parade, which marches down Santa Monica Boulevard from Crescent Heights to Robertson Boulevard.
About 50 people attended that forum, sharing numerous concerns including the emphasis on alcohol at the festival, the quality of entertainment and $20 admission cost to get into the festival. They also suggested getting A-list, openly gay celebrities to serve as grand marshal of the parade and allowing the City Council to select that grand marshal.
In January, the City Council will also discuss the possibility of rebranding the city's One City One Pride arts-related events (play readings, lectures, art displays, etc.) to include the West Hollywood name.
A staff report said a different name is needed because there is confusion about who is putting on these One City One Pride events. Many attendees assumed the events were part of CSW's pride festivities which go under the name "LA Pride."
While city staffers suggested calling it the West Hollywood Queer Arts Festival, Duran urged them to come up with a different name, one that didn't involve the word "queer," which was once considered a pejorative term, but was taken back by gay activists groups like Queer Nation in the 1990s.
"We need to find a more inclusive name," said Duran during his council member comments. "Young people don't identify with the term 'queer' and many older people still find it offensive."
The city started hosting events under the One City One Pride umbrella in 2009 as a way to extend the gay pride celebration beyond the LA Pride weekend, which traditionally happens on the second weekend of June.