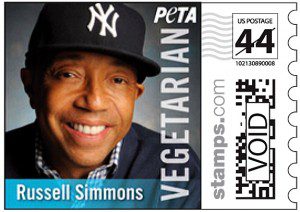 In a city already famous (or infamous, depending on your point of view) for banning the retail sale of fur products, perhaps it's no surprise that People for the Ethical Treatment of Animals is launching a limited-edition sheet of U.S. Postal Service–approved stamps honoring celebrated vegetarians at the West Hollywood Post Office.
Hip-hop mogul Russell Simmons, NBA hall-of-famer John Salley and TV personality Marco Antonio Regil will unveil the campaign at 10:30 a.m. tomorrow at the post office branch at 820 N. San Vicente Blvd. just north of Santa Monica. The East Coast launch of the stamps will take place in New York City tomorrow with Alan Cumming and Joan Jett.
Simmons, a vegan for more than 12 years, has called the meat industry "maybe the worst disaster in human history—15 billion suffering farm animals. And I don't want to participate in it." Regil's empathy for animals prompted him to go vegan, too. "Can you imagine the terror that a live being should feel when … they're seeing other animals being slaughtered?" the Mexican game show host asks. "It just completely breaks my heart."
Meanwhile, Salley first thought about going vegan after sampling the plant-based food on the set of his 2007 PETA shoot—and he wishes he'd made the change sooner. "If I had a vegan lifestyle when I was playing, I would still be playing," he said.
The stamps — which will feature images of Simmons, Salley, Regil and others including Paul McCartney, Alan Cumming, Pamela Anderson, Casey Affleck, Joaquin Phoenix, Edie Falco, Sarah Silverman — can be seen online.