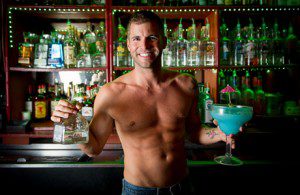 The West Hollywood Chamber of Commerce convened a meeting today of gay bar owners with representatives of the state Department of Alcoholic Beverage Control to address what the bar owners see as confusing enforcement by ABC of regulations barring lewd conduct in bars.
In addition to the ABC representatives, the meeting was attended by deputies of WeHo City Council members John D'Amico, John Duran and Jeffrey Prang and employees engaged in code compliance and economic development. Also attending was a representative of state Assemblymember Richard Bloom, whose 50th assembly district includes West Hollywood.
Genevieve Morrill, president of the chamber, said the bar owners present, all of whom have go go dancers at their establishments, expressed concerns about the process the ABC uses to alert them to violations of its regulations. Morrill said in one instance a bar owner wasn't notified until eight months after the alleged violation. Penalties can include closing a bar for 30 days, which has a significant impact on its revenue, or revoking its liquor license, which effectively puts it out of business. In addition ABC can levy fines.
Morrill said questions also were raised about the relevance of ABC's lewd conduct regulations, which were written 43 years ago. She noted that the regulations bar a patron from touching a topless female dancer but also bar touching a topless male dancer. She said the chamber's goal is to get clarity from ABC about its process for notification of violations and, eventually, to work with other cities to consider changes to the lewd conduct regulations that reflect current moral standards.
Sexual conduct at West Hollywood gay bars has been a major issue this year, with several facing lawsuits by employees alleging that they allowed patrons to engage in lewd conduct with them. One of those bars, Mickys, which is located at 8857 Santa Monica Blvd. at Larrabee, also has been fined $23,000 in recent years by ABC for actions "contrary to public welfare or morals."
Matthew Krupnick, a lawyer who filed a suit against West Hollywood Boys Town Inc (W.H.B.T Inc.), the owner of Micky's, provided WEHOville in May with photos of strippers at Mickys performing in the nude, displaying their penises and masturbating in front of patrons. Other photos showed a stripper walking around with semen on his face and chest, a patron using his finger to penetrate a stripper's anus, a ring toss game involving a man's penis and employees pouring shots of liquor down a stripper's back while a patron licked it from the stripper's buttocks.
In the suit filed against Kahuna Restaurant Group, owner of Fiesta Cantina, Jordan Shannon, a former bartender, alleged that Michael Bazera, one of the Kahuna owners, sexually harassed him. Kahuna has been fined $9,000 for various violations of ABC regulations.
Krupnick, who is gay, defended the lawsuits, saying "gay establishments should be held to the same level of accountability as any other establishment. Any company that breaks the law with regards to their employees has got to be held accountable."
The lawsuits, however, stirred outrage in West Hollywood's gay community, with many gay residents posting on WEHOville.com that such sexual behavior should be accepted at gay bars.
David Sakamoto, staff counsel for ABC's Southern District, which includes West Hollywood, refused to discuss the meeting at which his representative were present.