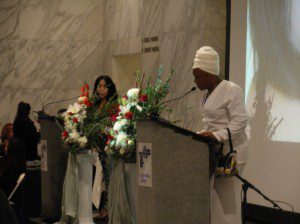 A virtual candle paid silent tribute to lives lost. The image flickered on a giant screen behind speakers and performers at the Transgender Day of Remembrance on Wednesday night.
About 200 people attended the event, which was held on the patio/auto court at the West Hollywood Library. Held each year on Nov. 20, the Transgender Day of Remembrance memorializes transgender people killed in hate-based attacks.
Violence against trans people is widespread. Mayor Abbe Land told the gathered crowed that, worldwide, 238 trans people are known to have lost their lives to hate violence.
"We as a community say that is intolerable," Land said. "We stand for human rights and acceptance."
Many members of the audience remembered those who died by reading their names and stories, written in a first-person narrative as if the victim were speaking to the crowd.
One by one, they stepped up to the microphones to say, "I am Domonique Newburn," I am Melony Smith" and so on. After each name, the reader shared a little information about the person's death, such as whether the murderer had been caught and convicted.
In lieu of real candles, audience members held up pink and blue glowsticks in tribute to the deceased. In some cases, the screen behind the reader changed from the candle image to a photo of the person being memorialized. Not all 238 names were read, but many poignant stories were shared.
In addition to the reading of the names, the Day of Remembrance event included musical performers and guest speakers. Carolyn Weiss, a member of the city's Transgender Advisory Board and the chair of the event planning committee, said that the committee has been incorporating more uplifting elements into the program for the last few years.
"It's such a solemn occasion," she said. "We wanted to celebrate transgender life as well as mourn transgender death."
One life that the crowd celebrated enthusiastically was that of 11-year-old trans girl Zoey, who spoke alongside her mother, Ofelia Barba Navarro. They talked about Zoey's experiences with bullying at school, which included being called "disgusting" by a teacher. Navarro supported her daughter and fought for her right to identify as female at a school where staff wanted her to be expelled.
"She's my hero," Navarro said of her daughter. "I will always stand with her."