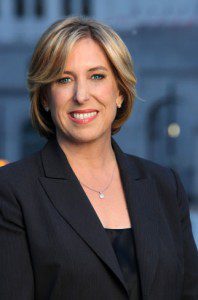 Wendy Greuel, who left her position as Los Angeles City Controller for an unsuccessful campaign earlier this year for mayor of Los Angeles, has confirmed to two friends that she will run for the LA County Board of Supervisors Third District seat.
In July, Greuel told KPCC that supporters have urged her to consider a run for the supervisor position, which incumbent Zev Yaroslavsky is leaving because he has reached a mandatory term limit, or for state controller.
The Greuel friends, who agreed to speak to WEHOville only if they weren't identified to avoid upsetting her, said she has settled on the county supervisor seat. The county's Third District includes the San Fernando Valley, Beverly Hills, Calabasas, Hidden Hills, Malibu, West Hollywood and Universal City. Greuel did not respond to several requests from WEHOville for comment.
Greuel served on the Los Angeles City Council from 2002 to 2009, when she won the city controller position. She lost the Los Angeles mayoral race to Eric Garcetti in May by an eight point margin. The contest was described as the most expensive in the city's history, with total spending of more than $33 million. Greuel's campaign was promoted by $7.7 million in spending by political action groups, including major donations from a union representing workers in the Department of Water and Power.
Political observers see Greuel as a powerful competitor to former state Sen. Sheila Kuehl, a lesbian who has been active on LGBT issues and has already declared herself a candidate, and John Duran, the gay West Hollywood City Council member who has formally filed as a candidate. Kuehl and Duran may well split the LGBT vote. Kuehl also may drain away some of the support from women that Greuel would attract. But Greuel is likely to benefit from the name recognition that came with her high profile race for mayor of Los Angeles. The primary election for the board of supervisors is in June, with the general election in November 2014.
Other possible candidates are former Malibu mayor and council member Pamela Conley Ulich, who has declared her candidacy on her website, and former Santa Monica Councilmember Bobby Shriver, who has said he is considering a run.
Duran is expected to run for re-election to the West Hollywood City Council, on which he has sat for more than 12 years, in 2015 if he fails win the 2014 election for the supervisor position.