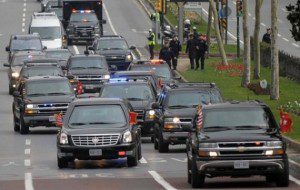 Navigating West Hollywood during rush hour Monday afternoon is likely to be more difficult than usual as President Barack Obama lands at Los Angeles International Airport and heads toward Beverly Hills.
Los Angeles police warned that Air Force One will touch down at LAX between 4 and 5 p.m., possibly closing streets in the World Way West area, near Playa del Rey.
Although exact plans were not released, the president will apparently follow past patterns and take a helicopter up the coast from LAX over Venice to Santa Monica, then turn northeast to a helipad at the Veterans Administration hospital in Westwood, off Wilshire Boulevard west of the San Diego (405) Freeway.
Los Angeles police warned drivers to brace for a possible motorcade starting after 4:45 p.m. from the Westwood area, heading to the Beverly Hills or Beverly Center area. Delays are possible in the area bounded by the 405 on the west, Santa Monica Boulevard on the north, La Cienega Boulevard on the east, and Venice Boulevard on the south. That indicates a presidential motorcade down Pico or Olympic boulevards sometime after 4:45 p.m., although the route is subject to last-minute change.
And that delay warning continues through 10 p.m. Monday, police said. Where the president will spend the night has not been made public. Obama is expected to attend a fundraiser at the homes of basketball Hall of Fame member Earvin "Magic" Johnson and Haim Saban, chairman of Saban Capital Group, in the Beverly Hills area Monday night.
On Tuesday morning, Obama will appear at a fundraiser at the Hancock Park home of "Friends" sitcom co-creator Marta Kauffman. Drivers were warned to expect delays as the president's motorcade heads from there toward the Dreamworks Animation studio near the the Los Angeles Zoo in Glendale.
Between 8 and 10:45 a.m., some streets in the Hancock Park area will be barricaded at times, in the area bounded by Fairfax Avenue on the west, Beverly Boulevard to the north, Western Avenue to the east and Pico Boulevard to the south.
At 10:30 a.m., streets will begin closing in Glendale, in an area bounded generally by San Fernando Road to the northeast, Grandview Avenue to the northwest, and Riverside Drive and the Los Angeles River to the south. Obama is expected to helicopter back to LAX for a departure Tuesday  between 1:15 and 2 p.m.