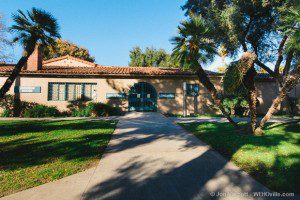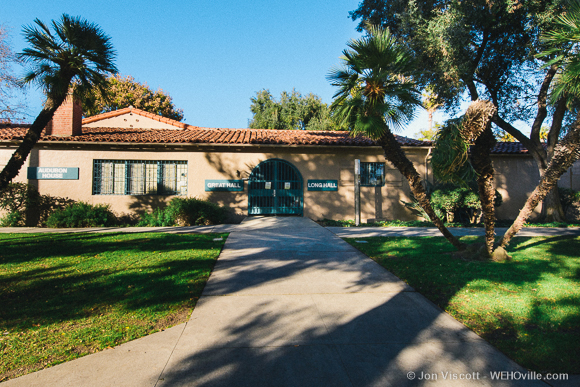 West Hollywood City Councilmember John D'Amico is proposing repairs to the roof of Plummer Park's Great Hall / Long Hall and other needed fixes until the city decides what to do with the structure.
D'Amico said today that he would bring the proposal before the city council at its meeting next Monday. He also will propose that the city work with the Arts and Cultural Affairs Commission to use Great Hall / Long Hall as a rehearsal space for local non-profit theatre companies, as a meeting space for local community groups and as individual studio spaces for up to 10 artists with West Hollywood ties. D'Amico also proposes that an art gallery be created in the hall and that the city install a plaque on the 75-year-old building commemorating its inclusion on the National Register of Historic Places.
The fate of Plummer Park and Great Hall / Long Hall has been a subject of controversy in recent years. A city master plan proposed demolishing the building as part of a major renovation of Plummer Park that would have included an underground parking garage and destruction of trees. Nearby residents responded with a campaign called "Protect Plummer Park," arguing that the city's plans would ruin significant aspects of the park. Those objections and the state's decision in 2012 to rescind the redevelopment funds that the city had allocated for its project caused it to be put on hold.
"The renaissance of the Eastside of West Hollywood is about to accelerate," D'Amico said. "This measure is the another step toward attending to the ongoing demographic and built environment changes, by developing a forward-looking, community-guided plan for Plummer Park that can fit with the plan for the entire Eastside."
"I have a sense that some of my colleagues may be squeamish about this vote," D'Amico said. "The community should know that this is a vote to provide an additional community resource for an interim period, to repair and activate this building until we decide what to do with the entire park. As elected officials, we must be responsible about maintaining this structure. 'Running out the clock' on this historic building by leaving it unattended when there is a deficit of community space is not acceptable."
D'Amico's proposal will be heard by the council at its regularly scheduled meeting on Dec. 2 in its chambers at 625 N. San Vicente Blvd. south of Santa Monica Boulevard.
CORRECTION: An earlier version of this story referred to the Plummer Park activist group as Save Plummer Park. It is Protect Plummer Park.