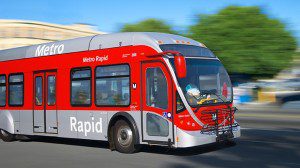 Traveling to or from Plummer Park may get easier for bus riders, who will soon be able to catch or get off the 704 metro rapid bus near the park.
Beginning on Dec. 15, the 704 will stop at the MTA bus stop located at Santa Monica Boulevard and Vista (eastbound) and Santa Monica and Gardner (westbound), which currently serve as stops for the 4 bus line. The 4 bus will continue to stop there as well.
Currently, the 704's nearest stop to the park is at Fairfax Avenue and Santa Monica. That's because the rapid line, designed to have fewer stops and thus get around faster, usually only stops only eight-tenths of a mile or so.
Even though this stop is only about a half-mile from the Fairfax stop, said MTA spokesperson Paul Gonzales, it made sense to add another stop due to the high number of riders in the area. With both the 4 bus and the 704 rapid making stops, Gonzales said, riders will generally be able to catch a bus within 10 minutes.
Among those riders are many seniors headed to the park to visit the West Hollywood Senior Center.