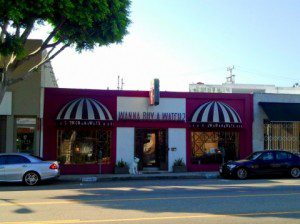 As retailers welcome the onset of the holiday shopping rush, there's one part of greater West Hollywood where the odds of chaos, fisticuffs and shopping-related injuries will probably remain quite low for the duration: the stretch of Melrose Avenue just east of La Cienega.
Between high-end retailers, storefront after storefront on Melrose Avenue sits empty — at least 15 of them in the stretch from La Cienega to Sweetzer. Peppered with "for lease" signs and with a dearth of foot traffic, the street seems oddly vacant in that area where remaining retailers include Vera Wang, Makeup Mandy, Farrow & Ball, the Left Shoe Company, Wanna Buy a Watch? and the Kardashians' Dash boutique. Vacancies are less prevalent but still frequent in the blocks further east moving toward Fairfax.
On the west side of La Cienega, the vibe is quite different. Ryan Farber, executive director of the West Hollywood Design District, said that available properties within the district's borders "get snatched up pretty quickly." Farber thinks the upscale design district is recovering from the hit it took during the economic crisis.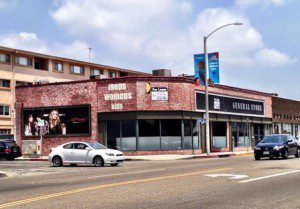 But a short distance can make a big difference. For Bob Oré, owner of the Bob Oré Gallery, that distance was a mere one-fifth of a mile. For three years, his business was located on the 8400 block of Melrose, an area he called a desert.
"I felt very lonely," Oré said. "I was waiting for people who never showed up."
About nine months ago, Oré relocated his gallery to 607 W. Knoll Dr., just off Melrose — and on the other side of La Cienega. Even though it's a mere five-minute walk from the old location to the new, it's made a big difference.
"It's a better part of the street," said Oré, who credits Urth Caffé with helping create a good atmosphere for shoppers.
Another key difference for Oré is the parking situation. His patrons previously had to park at meters, which Oré said the city of West Hollywood is focused on to an "absurd" degree. (The section of Melrose east of La Cienega extending to Croft is in West Hollywood. The stretch of Melrose east of Croft is in Los Angeles). Now situated behind Rag & Bone, Oré shares a parking lot with the fashion retailer.
Oré thinks that eliminating meters and widening sidewalks could help revitalize Melrose's floundering blocks.
"Right now [the area is] dead, and nobody is changing that," he said. And, he said, rents are much too high.
"The rents are sky-high," Robin Banchik agrees.
Banchik's Crystalarium is just on the cusp of Melrose's east/west divide in the black, white and pink shopping center (dubbed the "bleeding zebra") at 8500 Melrose Ave. at La Cienega. There's a vacancy being advertised in that building: a former café that now sits empty.
"Melrose rental rates shot up to some of the highest in Los Angeles just before the recession," said Urth Caffé cofounder Shallom Berkman. "I think that landlords still are trying to get those big rents and not willing to compromise."
With the economy continuing to improve, landlords may think they can hold out for tenants flush with cash, said Brian Brubaker, a real estate broker at Keller Williams Commercial.
That would be a tricky tactic for a small company, which would feel the squeeze from lost income. Big investment companies with multiple properties, though, are more likely to wait it out, Brubaker said. They can take the time to look for tenants with the finances for a high-dollar property.
"They are out there," he said.
Tenants with the capital to move onto Melrose are likely companies that have succeeded in other states, saturated their home markets, and want to go national, Brubaker said. That could mean a nationwide search for the right tenant—while the property in question sits empty.
"The market has never been hotter," said Jason Illoulian, founder and managing partner of Faring Capital.
Faring owns the land at 8711 Melrose, where it is developing a shopping and entertainment complex. With rents at record highs, Illulian said, Faring has rejected about 20 prospective tenants with the belief they could do better.
Far from being worried that the area is struggling, Illulian's concerns go in the other direction. He thinks that having diverse tenants makes for "a more interesting pedestrian experience for people" but that high rents—the same problem plaguing WeHo renters and theatres — could drive out small businesses.
Although high-end retailers like Rag & Bones, 8533 Melrose Ave. at Knoll, are good for the area, an influx of high-money retailers could price out smaller operations, he said.
"I hope that we still keep a lot of smaller tenants in the area," Illulian said. In the long run, he said, a good mix of small and large businesses benefits the whole area, landlords included. But, he said, the prices are dictated by the market—it's all about supply and demand.
"In West Hollywood, there's not a lot of supply anywhere," he said. "I don't really think [pricing out small businesses] can be avoided."
Faring's 8711 Melrose project is on the west side of the significant La Cienega marker; however, he said that he doesn't think the situation is different farther to the east.
"Those retail blocks are surrounded by density and multifamily properties," he said. "That critical mass of residents helps support those businesses."
However, some former tenants of the area say it suffers from a lack of pedestrian activity.
"Traffic zips by quite fast," said Jack Simantob, owner of rug wholesale business Art Resources, which left Melrose in 2007 and is now located a few miles away at 1961 S. La Cienega Blvd. at Guthrie. "It's not an environment conducive to retail."
Simatob suggested that the area could benefit from a "green median" with landscaping. It could also use some cosmetic changes such as trimming trees that are close to the buildings, he said. And, he said, a parking structure could be a boon to the area.
Gillian Newberry echoed the need for more pedestrian traffic. Newberry is director of Bennison Fabrics Inc., which had a showroom at 8264 Melrose at Harper for about a decade.
"From the time we opened in 2001 until we left in 2010, stores were closing up and down the street," Newberry said.
"Bennison is an English company specializing in hand-printed archive designs, and in America supplies only to the trade. Thus we were not reliant on passing footfall, which was just as well as footfall is minimal in that particular stretch of Melrose.
"We loved West Hollywood—great restaurants, fun places to go and lovely houses. It would be nice to see a mix of fashion and antiques or design shops. Paul Smith and Fred Segal are great landmarks, and it's a pity that Urth Caffé is west of La Cienega. Melrose needs a great café with outdoor seating to attract passersby."