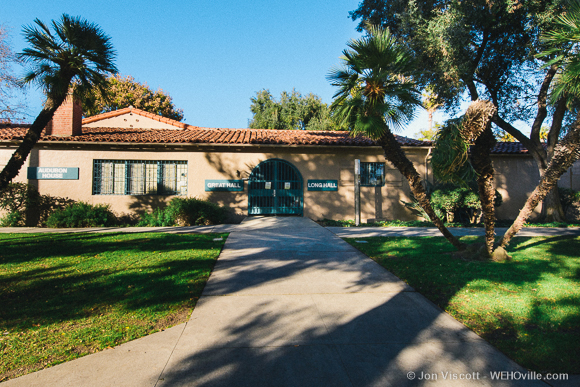 The West Hollywood City Council tonight will take up Councilmember John D'Amico's proposal to make needed emergency repairs to buildings in Plummer Park and assess repairs needed to the park's Great Hall / Long Hall.
D'Amico's proposal also calls for the city to consider using Great Hall / Long Hall as a rehearsal space for local non-profit theatre companies, as a meeting space for local community groups and as individual studio spaces for up to 10 artists with West Hollywood ties. D'Amico also proposes that an art gallery be created in the hall and that the city install a plaque on the 75-year-old building commemorating its inclusion on the National Register of Historic Places.
A city proposal to redevelop the park called for installing an underground parking garage and demolishing the Great Hall / Long Hall building, which was a project of the Depression-era Work Projects Administration. The redevelopment plan also called for renovating the Spanish Colonial Revival-style Fiesta Hall as performance center with futuristic architecture. That proposal sparked controversy among neighbors of the park and other advocates for preserving it as it is. They formed a group called Protect Plummer Park to protest the city's proposed $41 million redevelopment plan.
The redevelopment plan suffered a setback in February of last year when the State of California dissolved local redevelopment agencies, removing a source of funding that West Hollywood was counting on to help finance the project. The city planned to finance the Plummer Park renovations with $14 million in redevelopment money and $27 million in bond money. In March 2011, the city issued $30 million in bond for the project at an 8 percent interest rate to be paid back over 30 years ($3 million of that bond money was set aside for the cost of issuing the bonds and for repayment of the debt not covered by the redevelopment funds). The state Department of Finance in December denied an appeal by the city of the decision.
In a statement issued last week, D'Amico said: "I have a sense that some of my colleagues may be squeamish about this vote. The community should know that this is a vote to provide an additional community resource for an interim period, to repair and activate this building until we decide what to do with the entire park. As elected officials, we must be responsible about maintaining this structure. 'Running out the clock' on this historic building by leaving it unattended when there is a deficit of community space is not acceptable."
His "squeamish" comment is an apparent reference to Councilmember John Heilman, who has been on the opposite side of D'Amico on several issues. In April, Heilman called for the immediate demolition of Great Hall / Long Hall and joined three other council members in voting for a resolution to oppose the hall's nomination for a place on the National Register of Historic Places. Only D'Amico voted against that resolution. The hall was added to the national register in July.
On Monday the City Council also will wade into the of a fight between two major billboard companies as it hears an appeal by Regency Outdoor Advertising of the city Planning Commission's approval of a modification to a so-called "tall wall" billboard on a building at 8730 Sunset Blvd. east of Palm Avenue. That modification is opposed by Ace Outdoor Advertising, another major billboard advertising company.
The city Planning Department in April recommended the Planning Commission reject the "tall wall" modification. But the Planning Commission rejected the planning staff recommendation. In May it approved the "tall wall" modification in a three to one vote, with commissioner Marc Yeber, appointed by Mayor Abbe Land, voting no, and commissioner John Altchsul, appointed by Councilmember John D'Amico, abstaining.
Ace's appeal of that decision has been delayed for months. Both parties are major contributors to the council members' election campaigns. Also Afriat Consulting, lobbyist for Ace, has managed the re-election campaigns of all council members but John D'Amico.
Other items on the council's agenda include an update on the PickUp Line trolley service, which runs along Santa Monica Boulevard on Friday and Saturday nights to ferry diners and bar-goers to the city's restaurants and bars, and a proposal to co-sponsor a West Hollywood Dog Show on April 12 in West Hollywood Park. The PickUp Line, which offers free transportation, has attracted 1,200 to 1,400 riders a weekend. It is scheduled to end on Dec. 28 unless the council decides to extend it.
The City Council meeting, which is open to the public, is at 6:30 p.m. in the council chambers at 625 N. San Vicente Blvd., north of Melrose Avenue. The full agenda is available online.