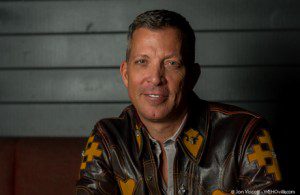 David Cooley is getting out ahead of possible opposition to his plans to open Cooley's, billed as a "gastropub restaurant and beer garden," with a presentation of the concept to the public on Tuesday.
The event will take place at the Abbey, the iconic gay bar and restaurant that Cooley founded 23 years ago, from 6 to 7:30 p.m. The Abbey, at 696 N. Robertson Blvd., is around the corner from 8936 Santa Monica Blvd. where Cooley's is expected to open next year in space previously occupied by Raffi Jewelry and Balliamos dance studio and the Unicorn Alley adult store.
An announcement from Cooley says the event is the first of several "previews" planned before plans Cooley's are submitted to the City of West Hollywood for approval. That presentation currently is scheduled for 5 p.m. on Dec. 17 at the West Hollywood Library Community Meeting Room.
Cooley's is one of two new bars aimed at a gay clientele planned for the western end of Santa Monica Boulevard, which often is called Boystown because of its concentration of gay bars and restaurants and clothing stores. The other is P.U.M.P, which Lisa Vanderpump plans to open in the former location of Java Detour on the southeast corner of Robertson and Santa Monica boulevards. P.U.M.P. will be restaurant and lounge that will cater to a gay clientele.
The addition of more nightspots has brought criticism from owners of existing businesses in the area, who say that the replacement of stores by bars and restaurants has reduced foot traffic in the area. "Without the retail, what's going to draw people to the area during the day?" Richard Grossi, owner of Eleven nightclub and restaurant, told WEHOville in Octobers. "Do we really want to be taking all the retail out of the neighborhood and just have nightlife?"
Also, owners of some of the dozen existing gay nightspots, concerned about a decline in business, are upset at facing more competition. None of those who have complained to WEHOville about the impending opening of Cooley's or P.U.M.P. was willing to comment for the record. But several said they hope to contest Cooley's application for a liquor license. According to the state Department of Alcohol Beverage Control, no one has as of yet filed for a liquor license for the Cooley's location.