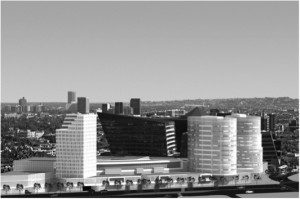 Charles Cohen, owner of West Hollywood's Pacific Design Center, is planning a series of community meetings in an effort to sell residents and city leaders on his proposal to redevelop the land now occupied by a Los Angeles County Metropolitan Transportation Authority depot on Santa Monica Boulevard at San Vicente.
A story by WEHOville in February revealed that Cohen had signed an agreement that gave him the exclusive right for two years to negotiate with the MTA a plan to build a massive complex that would include two high-rise towers, 600,000 square feet of residential/hotel space, 120,000 square feet of retail shops, a 2,500-seat movie theater complex and an 800-seat open amphitheater, plus a 50,000-square-foot sheriff's station. The 10.4 acre site — equivalent to ten football fields — includes the current location of the West Hollywood Sheriff's station, and its sale to Cohen would have to be approved by the Los Angeles County Board of Supervisors.
The deal with the MTA sparked outrage among West Hollywood residents and City Council members, who hadn't been notified in advance of the Cohen agreement.
The effort by Cohen Brothers Realty Corp. of California (CBRCC) to reach out to residents and community leaders will be led by Steve Afriat and James Arnone and is expected to start soon. Afriat is a major lobbyist in Los Angeles County who has been the subject of controversy because he has managed the campaigns of all West Hollywood City Council members except for John D'Amico and also represents major companies that do business with the city. Arnone is a partner in the real estate practice of Latham & Watkins, which represents developers interested in real estate projects in West Hollywood. He and his law partners also are major contributors to the campaigns of council incumbents.
The City of West Hollywood has decided not to actively participate in the CBRCC outreach effort. According to a communication with members of the city's Planning Commission, CBRCC wants to begin the process quickly and hasn't been clear about what it intends to do.