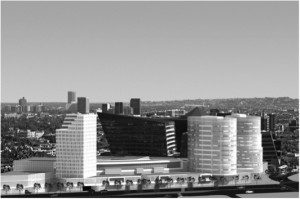 The first of a series of community meetings that Cohen Brothers Realty is staging in an effort to get community support for its plans to develop a massive shopping center, residential complex and hotel on Santa Monica Boulevard is set for next Tuesday.
Chris Bowen, an employee of Afriat Consulting Group, Cohen's lobbying firm, has reached out to opinion leaders in West Hollywood to announce the event, which will be held from 5:30 to 7:30 p.m. at the Blue Building of Cohen's Pacific Design Center, 8687 Melrose Ave. at San Vicente.
"We will have go-at-your-own-pace stations where attendees can ask questions and tell us what they think," Bowen said in his email. He requests that attendees RSVP by emailing RSVPforPDC@gmail.com or calling (818) 558-6827.
This is the first of several community meetings that Afriat will hold in an effort to explain the Cohen project, which stirred controversy when WEHOville announced in February that it was being considered.
Residents expressed concern about the size of the proposed project, which would cover an area the size of ten football fields on the south side of Santa Monica Boulevard east of San Vicente where the Metropolitan Transportation Administration's bus depot now is located.
Cohen's early plans called for a 280-space, three-level underground garage for MTA bus storage, maintenance and operations topped with several buildings that would include 400,000 square feet of commercial office space in two high-rise towers, 600,000 square feet of residential/hotel space, 120,000 square feet of retail shops, a 2,500-seat movie theater complex and an 800-seat open amphitheater, plus a 50,000-square-foot sheriff's station.