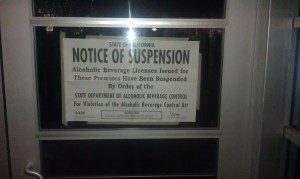 The recent closing of West Hollywood's Here Lounge and past citations of Mickys for violation of the state Department of Alcoholic Beverage Control lewd conduct regulations are prompting discussions with the ABC department on how it enforces those regulations.
Josh Kurpies, senior field representative for Assemblymember Richard Bloom, whose district encompasses West Hollywood, said he believed a meeting with state ABC officials is needed to discuss enforcement practices rather than the regulations themselves. The regulations, some 43 years old, are set by the state legislature and cannot be modified by ABC officials.
Kurpies, who will meet tomorrow with West Hollywood Chamber of Commerce CEO Genevieve Morrill and City Hall staffers, noted that under the current practice, a bar owner might not be notified of a violation until eight months after it occurs. "They in general will make about two or three visits in the investigative process," he said. "That can take as much as eight months. I'm not quite sure if that's reflective of the way the business is actually run."
Morrill, in an earlier interview with WEHOville, had noted that ABC enforcement officers don't immediately alert bar owners to apparent violations of ABC laws. Pat Rogers, owner of Here, said that he would have taken steps to stop violations if he had been warned of them. Morrill organized a meeting in November of bar owners and ABC officials to discuss enforcement procedures.
The ABC law has been criticized as outdated because of its restrictions on behavior that may have seemed obscene when it was enacted but isn't viewed that way now. But, Kurpies noted, "As a city or a county you can't say we are going to take over the enforcement. The wording of the law is up to the legislature.
Rogers said that Here's closing, which began Dec. 2 and runs through Jan. 1, has required him to layoff employees and means he will lose revenue.