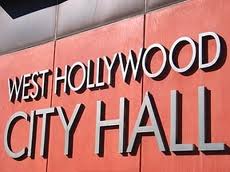 West Hollywood City Hall staffers will get an opportunity to walk the city's streets with the construction of the so-called "robo garage" behind City Hall.
An item on the council's Monday agenda seeks permission to pay LAZ Parking $90,000 to provide 70 parking for 18 months for employees at a garage at 901 Hancock Ave. at Santa Monica Boulevard and to pay ABM Parking $122,000 to provide 40 spaces at the Gateway Plaza garage at Santa Monica Boulevard at La Brea and to provide a shuttle for City Hall visitors from weekdays from 8 a.m. to 6 p.m. from the city's Kings Road garage. Meetings usually held at City Hall will be moved to buildings at West Hollywood Park or Plummer Park during the 18-month construction period.
The robo garage project, on which construction is set to begin in January, will add 132 spaces to the area behind City Hall that currently houses 68 parking spaces. The city is encouraging employees to consider alternate modes of transportation, including riding a bus or a bicycle. Several deputies to city council members have objected to having to walk through West Hollywood to get to work and are said to be considering filing a complaint through their five-member union. For the most part the deputies, whose authorized salaries range from $81,000 to $104,000 a year, do not live in West Hollywood.